Record: 25-7
NCAA Tournament: 5-0
Coach: Al McGuire
Captain: Maurice (Bo) Ellis
Leading Scorer: Butch Lee (19.6 ppg)
Leading Rebounder: Maurice (Bo) Ellis (8.3 rpg)

Marquette finished the season ranked 14th in the final UPI poll and 7th in the final AP poll. They also tied a Marquette record set two years ago for team free throw percentage (77.8%). The Warriors also ranked second nationally in scoring defense, allowing 59.4 points per game.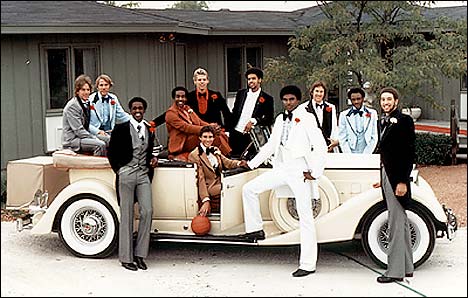 Marquette 1977 championship team is posed around a 1934 Packard Convertible taken at the Brooks Stevens museum which was on North Port Washington Road just north of County Line Road in Mequeon, WI. Brooks Stevens was an industrial designer who designed many forward looking appliances, etc and had a large classic car collection.
| name | G | MIN | FGM | FGA | FG% | FTM | FTA | FT% | REB | RPG | AST | PF | PTS | PPG |
| --- | --- | --- | --- | --- | --- | --- | --- | --- | --- | --- | --- | --- | --- | --- |
| Butch Lee | 32 | 1193 | 239 | 501 | .477 | 150 | 172 | .872 | 121 | 3.8 | 104 | 72 | 628 | 19.6 |
| Maurice (Bo) Ellis | 32 | 1207 | 192 | 379 | .507 | 115 | 153 | .752 | 266 | 8.3 | 56 | 97 | 499 | 15.6 |
| Jerome Whitehead | 32 | 1022 | 150 | 290 | .517 | 36 | 62 | .581 | 262 | 8.2 | 37 | 85 | 336 | 10.5 |
| Gary Rosenberger | 32 | 582 | 97 | 206 | .471 | 38 | 50 | .760 | 44 | 1.4 | 48 | 45 | 232 | 7.3 |
| Jim Boylan | 32 | 843 | 89 | 195 | .456 | 47 | 51 | .922 | 88 | 2.8 | 114 | 69 | 225 | 7.0 |
| Bernard Toone | 32 | 438 | 57 | 139 | .410 | 27 | 38 | .711 | 69 | 2.2 | 9 | 61 | 141 | 4.4 |
| Ulice Payne | 21 | 328 | 40 | 82 | .488 | 14 | 15 | .933 | 55 | 2.6 | 22 | 28 | 94 | 4.5 |
| Bill Neary | 32 | 668 | 22 | 67 | .328 | 10 | 13 | .769 | 88 | 2.8 | 34 | 77 | 54 | 1.7 |
| Jim Dudley | 17 | 95 | 10 | 24 | .417 | 6 | 10 | .600 | 29 | 1.7 | 5 | 18 | 26 | 1.5 |
| Robert Byrd | 12 | 42 | 4 | 14 | .286 | 1 | 4 | .250 | 8 | 0.7 | 2 | 4 | 9 | 0.8 |
| Craig Butrym | 13 | 39 | 3 | 13 | .333 | 1 | 3 | .333 | 15 | 1.2 | 1 | 2 | 7 | 0.5 |
| Mark Lavin | 9 | 18 | 2 | 6 | .333 | 1 | 2 | .500 | 4 | 0.4 | 0 | 0 | 5 | 0.6 |
| TOTALS | 32 | 6475 | 905 | 1916 | .472 | 446 | 573 | .778 | 1170 | 36.6 | 432 | 558 | 2256 | 70.5 |
| Date | Opponent | Score | Record | Notes |
| --- | --- | --- | --- | --- |
| 12/1/1976 | Saint Leo | W, 80-39 | 1-0 | |
| 12/6/1976 | Western Michigan | W, 78-53 | 2-0 | |
| 12/8/1976 | at Florida | W, 64-61 | 3-0 | |
| 12/11/1976 | Penn State | W, 79-49 | 4-0 | |
| 12/18/1976 | #17 Louisville | L, 75-78 | 4-1 | Overtime |
| 12/21/1976 | #20 Minnesota | L, 59-66 | 4-2 | |
| 12/27/1976 | #11 Clemson | W, 67-49 | 5-2 | Milwaukee Classic |
| 12/28/1976 | UW-Madison | W, 64-57 | 6-2 | Milwaukee Classic |
| 12/31/1976 | at Northwestern | W, 66-53 | 7-2 | |
| 1/3/1977 | Georgia Tech | W, 63-45 | 8-2 | |
| 1/8/1977 | South Carolina | W, 65-54 | 9-2 | |
| 1/11/1977 | at Air Force | W, 74-56 | 10-2 | |
| 1/16/1977 | #19 Notre Dame | W, 78-69 | 11-2 | |
| 1/18/1977 | at Drake | W, 62-60 | 12-2 | |
| 1/22/1977 | Xavier (OH) | W, 85-43 | 13-2 | |
| 1/29/1977 | at DePaul | W, 85-64 | 14-2 | |
| 2/6/1977 | at #12 Cincinnati | L, 62-63 | 14-3 | |
| 2/9/1977 | Loyola (IL) | W, 81-71 | 15-3 | |
| 2/12/1977 | Manhattan | W, 86-60 | 16-3 | |
| 2/14/1977 | DePaul | L, 72-77(OT) | 16-4 | |
| 2/16/1977 | #15 Detroit | L, 63-64 | 16-5 | |
| 2/19/1977 | Wichita State | L, 75-64 | 16-6 | |
| 2/21/1977 | at UW-Madison | W, 73-58 | 17-6 | |
| 2/26/1977 | at Virginia Tech | W, 75-70 | 18-6 | |
| 2/28/1977 | at Tulane | W, 63-44 | 19-6 | |
| 3/5/1977 | at Creighton | W, 72-60 | 20-6 | |
| 3/6/1977 | at #3 Michigan | L, 68-69 | 20-7 | |
| | vs #11 Cincinnati | W, 66-51 | 21-7 | NCAA Tournament (Omaha, NE) |
| | vs Kansas State | W, 67- 66 | 22-7 | NCAA Tournament (Oklahoma City, OK) |
| 3/19/1977 | vs #9 Wake Forest | W, 82-68 | 23-7 | NCAA Tournament (Oklahoma City, OK) |
| | vs #17 UNC-Charlotte | W, 51-49 | 24-7 | NCAA Tournament (Atlanta, GA) |
| 3/28/1977 | vs #5 North Carolina | W, 67-59 | 25-7 | NCAA Tournament (Atlanta, GA) |
More images can be found here: http://www.marquette.edu/library/collections/archives/UAPhoto/Subj_Images/UNIVA4-5-10-00112/index.html