1992-93 (20-8; 6-4 GMC)
NCAA Midwest Regional, lost in 1st Round
Coach: Kevin O'Neill
Captains: Ron Curry, Damon Key, Tony Miller
Leading Scorer: Ron Curry (14.4 ppg)
Leading Rebounder: Ron Curry (8.1 rpg)





The Marquette Warriors re-established themselves as one of the nation's top teams. Head coach Kevin O'Neill's team made it's first appearance in 14 seasons in the Associated Press Top 25 Poll on January 25th. The Warriors were also ranked in the CNN/USA Today poll for seven of the last eight weeks of the season. For the first time in ten years, Marquette participated in the NCAA Tournament. The Warriors dropped a 74-62 decision to Oklahoma State in the first round of the Tournament on March 19th in Indianapolis. Marquette also posted its first 20-win campaign (20-8 overall) since the 1984-85 season.

"Getting to the NCAA Tournament was a very significant accomplishment for our basketball team," remarked O'Neill. "I have always said that it's harder to re-establish tradition than to establish it in the first place. I have a lot of respect for what my team has done in this regard."

Marquette dominated the first part of it's home schedule, winning the first six games of the season. Senior Ron Curry started his final collegiate season in fine fashion, averaging 18.8 points and 11 rebounds in the first six contests of the season. Curry also had four double-figure scoring games in that span. Jim McIlvaine turned in a career night against Northeastern Illinois on December 9th. He registered 36 points and 13 blocked shots. Those rejections were the most in the country in 1992-93 and set Marquette, Bradley Center and Great Midwest Conference records.

Northeastern Illinois set a record of their own in that game, stealing the ball from Marquette 18 times, which was the Bradley Center record at that time. Those turnovers were an anamoly in an otherwise stellar season in that category. After setting a school record two years ago with 535 turnovers, the Warriors set another school record for the fewest turnovers in a season with 383.

The Warriors then took their show on the road to Las Vegas, where they played the Runnin' Rebels in front of a national television audience (ESPN Dec. 26). Damon Key scored a career-high 32 points, but the Warriors could not overcome J.R. Rider's 32 points and 12 three-pointers by the Rebels. UNLV posted a 94-88 victory. Marquette returned to it's winning ways in its second straight road game at Illinois on December 29th. The Warriors topped the Fighting Illini 61-58. Curry returned to his home state and posted his fifth double-double of the season with 21 points and 11 rebounds. Key chipped in 16 points and McIlvaine added 11 points.

In their second consecutive game versus a Big Ten opponent, the Warriors dropped a 77-67 decision to traditional state rival, Wisconsin on January 2nd. Freshman Roney Eford turned in a spectacular performance, scoring 27 points and pulling down six rebounds. The game was the first Marquette sell-out (18,543) at the Bradley Center. Following the loss to Wisconsin, the Warriors reeled off ten straight wins, including victories over Great Midwest Conference rivals UAB, Saint Louis (twice), Memphis State and DePaul. After the Wisconsin game, the Warriors had a new face in their starting five. Eford was inserted into the starting lineup and played a major factor in Marquette's 10 consecutive wins. With Eford in the starting lineup, Marquette was 14-4.

One of those ten victories came at South Florida (69-54). Sophomore point guard Tony Miller set a Great Midwest Conference record when he made six of six field goals, including three three-pointers. Miller also handed out six assists in that game. Marquette struggled in the middle part of February. The Warriors dropped a hard-fought battle at Cincinnati (55-53) on Erik Martin's last-second shot. Curry had a game-high 16 points and 11 rebounds for Marquette in that game. the Warriors returned home to face UAB in the second game of the season series. The Blazers pulled off a 44-38 upset behind 12 points from Stanley Jackson. Marquette shot a season-low 27.1% from the field and no Warrior scored in double figures.

Facing a must-win situation, Marquette headed to long-time rival Notre Dame on February 17th. The Warriors answered the call and recorded a 69-61 victory. Eford and Key scored 19 and 18 points respectively. Marquette returned home to host UW-Green Bay and a national televison audience (ESPN) on Feburary 20th. The Warriors posted a 63-46 win behind 19 points and 12 rebounds from Curry. Marquette held UWGB, which entered the game as one of the nation's top shooting teams, to just 34.5% shooting from the floor.

In the re-match against Cincinnati, the Warriors struggled late in the game and fell 66-57 to the nation's 10th-ranked team. Eford led all scorers with 21 points and Key added 19 points. UC was led by national player-of-the-year candidate Nick Van Exel's 20 points. The game featured the largest crowd (18,563) ever to watch a Marquette home game. Following the Cincinnati game, the Warriors headed to Memphis for the second meeting of the season against the Tigers. It was the second straight game Marquette faced a player nominated for national-player-of-the-year honors. That player, Anfernee Hardaway, scored 18 points, but it was Billy Smith's 26 points, including four three-pointers that led MSU to a 68-63 win. Eford and Key shared team scoring honors with 19 points apiece.

O'Neill's team ended the regular season on a high note, topping DePaul 86-75 on March 6th. The Warriors tied a school record with 12 three-point field goals. Miller tied his career high with 22 points and dished out 11 assists. Eford added 20 points. The Warriors were upset by Saint Louis (63-57) in the first round of the Great Midwest Conference Tournament in Memphis on March 11th. McIlvaine paced the Warriors with 20 points and Key added 12 points. Marquette played teams ranked in the top-25 four times, but failed to produce a victory in any of those contests.

Three players moved up in the Warrior record books last season. Curry became the 12th player to score 1,000 points and pull down 500 rebounds. Key scored the 1,000th point of his career against South Florida. He finished the season as Marquette's 19th all-time leading scorer with 1,132 points. Junior Robb Logterman took possesion of Marquette's three-point field goal records, as he connected on 169 three-point shots on 427 long-range attempts so far in his Warrior career. "Damon Key, Jim McIlvaine and Robb Logterman have put this program back on the map and have meant a lot to the successes and reputation of our basketball program at this point in time, " said O'Neill.

Several Warriors were honored following the conclusion of the 1992-93 season. Head coach Kevin O'Neill was the co-recipient of the Ray Meyer Award, which honors the top coach in the Great Midwest Conference. he also was named the Midwest Region Coach of the Year by Basketball Times, as well as the Kodak District 11 Coach of the Year by the National Association of Basketball Coaches. Additionally, he was a finalist for the Associated Press national Coach of the Year Award.

Ron Curry was selected to the All-Great Midwest Conference. He also earned honorable mention on the All-Midwest Team as chosen by Basketball Times and Basketball Weekly. Junior Damon Key picked up All-Great Midwest Second-Team honors. Key was an honorable mention choice on Basketball Weekly's All-Midwest Team. Sophomore Tony Miller was named to the All-Great Midwest Second Team. He was an All-Midwest honorable mention selection by Basketball Times and Basketball Weekly. Junior Jim McIlvaine was an honorable mention All-Midwest choice by Basketball Times. He was also selected to play on the Foot Locker NIT All-Star team in the summer of 1993 in Puerto Rico and Italy. Freshman Roney Eford was named the Great Midwest Conference Newcomer of the Year and was also chosen to the league's All-Newcomer Team. He was chosen to the Basketball Weekly's Fresmen All-America Fifth Team. Additonally, Eford was a member of the North team that won the gold medal at the U.S. Olympic Festival in San Antonio, Texas.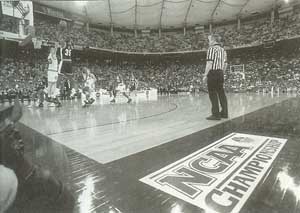 Damon Key takes a shot against Oklahoma State in the first round of the NCAA Tournament, in Indianapolis, Indiana.
| No. | Name | Ht./Wt. | Pos. | Year | Hometown (High School) |
| --- | --- | --- | --- | --- | --- |
| 20 | Craig Aamot | | G | So. | Waukesha, WI (Waukesha South H.S. |
| 33 | Ron Curry | 6'8" | F | Sr. | Bloomington, IL (Bloomington H.S.) |
| 13 | Roney Eford | 6'6" | F/G | Fr. | Queens, NY (New Hampton (NH) Prep |
| 22 | William Gates | 6'0" | G | So. | Chicago, IL (Westchester St. Joseph's H.S.) |
| 35 | Damon Key | 6'8" | F | Jr. | Milwaukee, WI (Marquette H.S.) |
| 12 | Robb Logterman | 6'3" | G | Jr. | Janesville, WI (Craig H.S.) |
| 34 | Jim McIlvaine | 7'1" | C | Jr. | Racine, WI (St. Catherine's H.S.) |
| 10 | Tony Miller | 6'0" | G | So. | Cleveland, OH (St. Joseph's H.S.) |
| 21 | Ben Peavy | 6'3" | G | Sr. | San Antonio, TX (Alamo Heights) |
| 54 | Adam Schabes | 6'3" | G | Sr. | Chicago, IL (Loyola Acadamey) |
| 42 | Shannon Smith | 6'5" | F | So. | Milwaukee, WI (Whitefish Bay Dominican H.S.) |
| 4 | Dwaine Streater | 6'8" | F | Fr. | East St. Louis, IL (Lincoln H.S.) |
| 32 | Jay Zulauf | 6'6" | F | Sr. | Port Huron, MI (Port Huron H.S.) |
| 00 | Amal McCaskill | 6'11" | C/F | Redshirt | Westchester, IL (Westchester St. Joseph's H.S.) |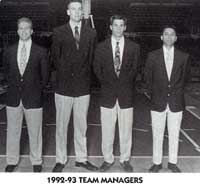 Maurice (Bo) Ellis- Assistant Coach
Dan Theiss- Assistant Coach
Craig McMillan- Assistant Coach
Mark Anglavar- Special Assistant to Men's Basketball
John Hintz- Strength Coach
Lawrence Frank- Basketball Staff Assistant
Jordan Wells- Head Manager
Bryan Hannley- Manager
Jon Hoff- Manager
Robert Taylor- Manager
Peter Ranola-Manager

* Great Midwest Conference game

Marquette led the nation in defensive field goal percentage with a 39.3% mark. They were seventh nationally in team defense, allowing 60.4 ppg and eighth in scoring margin (+13.4). The Warriors were ranked 13th nationally in rebounding margin (+6.4 rpg) and 15th in free throw percentage (74.3%). Tony Miller ranked seventh nationally (first for sophomores) in assists with 7.6 apg. Jim McIlvaine ranked 13th nationally in blocked shots (2.8 bpg).
Roney Eford tied with teammate Jim McIlvaine for 16th place in scoring (11 ppg). Eford was 19th in rebounding (4.2) and third in three-point field goal percentage (42.6%). Eford was also fourth in free-throw percentage (79.5%).

Damon Key led the conference in free throw percentage (88.6%), ranked sixth in field goal percentage (51.5%), eighth in rebounding (5.7) and 13th in scoring (13.6).

Robb Logterman ranked seventh in three-point field goal percentage (37.1%)

Jim McIlvaine led the conference in blocked shots (2.8), ranked third in field goal percentage (57.8) and 12th in rebounding (4.8).

Tony Miller led the conference in assists (7.6) and three-point field goal percentage (46.9%). Miller also ranked tenth in steals (1.46), 19th in scoring (8.8) and 20th in rebounding (4.14).

Ron Curry was fourth in rebounding (8.1), fifth in field goal percentage (54.1%), seventh in blocked shots (.65), ninth in free throw percentage (74%) and 11th in scoring (14.4).