MUScoop Wiki - By the fans, for the fans.
Walter Downing #13
Position: Forward/Center
Height: 6'9"
Weight: 230 lbs.
Born:
Hometown: Cresthill
High School: Providence Catholic in New Lenox, IL

High School Career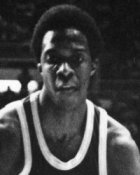 Selected as Mr. Illinois basketball award winner in 1981 and chosen as a McDonald's All-American. Downing led Providence Catholic to a third place finish in 1978 and eventually, a state championship in 1979 - as a junior! In ten state tournament games, he scored 184 points and grabbed 80 rebounds. However, Downing was best known as a shot-blocker. In a 1978 state quarterfinal playoff game against Ottawa Marquette, he rejected a record 12 shots.




Collegiate Career
Walter was named team co-captain for the 1985-86 season.
school
season
G
MIN
Avg
FG-FGA
FG%
FT-FTA
FT%
REB
Avg
AST
STL
BLK
TO
PF
PTS
PPG
DePaul
1981-82
28
485
17.3
54-119
.454
24- 42
.571
92
3.3
23
15
49
18
67
132
4.7
DePaul
1982-83
33
534
16.2
77-161
.478
36- 53
.679
102
3.1
11