RingOutAhoya.com debuted in December of 1997 as the "Unofficial Marquette Golden Eagles Homepage". The site contained things such as a list of the greatest MU games ever, a guestbook where fans from around the world could say hello, and game recaps. In 1998 a message board was added to the site, and the site's popularity began to grow.
In 1999 Mike Juno, signed a contract with Rivals.com, a Seattle-based Internet company that set out to create the best network of unofficial sports sites anywhere. This is when the site's name officially changed to Ahoya.com. Although Rivals was successful at designing a quality product, they could not make enough money to stay afloat financially, and folded in April 2001.
The AllianceSports Network- the "new Rivals": This network, staffed by a number of ex-Rivals employees took over in 2001.
In July of 2001 Ahoya.com teamed with DoddsOnSports.com to form Ahoya/DoddsOnSports, the ultimate site for Marquette Basketball fans. John Dodds was a radio personality who previously worked in Marquette's Athletic office. He is currently the team statistician.
In 2004, Juno and Dodds had a falling out over editorial policy, and Dodds created a new website called MarquetteHoops.com. After Dodds' departure, forum poster and part time contributor "UncleJohn" replaced him as moderator.
In 2005, as Juno had little time to administer the busy forum, "SoCalWarrior" and "Alum91" joined "UncleJohn" as moderators for RingoutAhoya. Months later, "UncleJohn" left due to a disagreement regarding the existence of the political forum. Later, Rivals.com approached Alum91 who took over the publishing duties from Juno. After one season, Alum91 became irritated with Rivals.com's management and resigned.
After the departure of Alum91 as publisher, many long time Rivals posters left RingOutAhoya for MU Scoop, and activity on the form shrank dramatically. In February 2007, after a few months with no publisher, Darren Maas signed an agreement with Rivals to take over as publisher of the Marquette Rivals site. In an effort to have a fresh start, on March 7th 2007, the RingOutAhoya name was abandoned.
In 2004, John Dodds (pictured below) and Jim Ganzer ("IWB - Irritated White Boy") created a new website with extensive recruiting and insider information. Some of the premium information and fine articles come at a cost of a subscription to the Scout.com network, $89/year. In 2007, Jim Ganzer was hired by the Journal Sentinel to run the SportsBubbler.com website.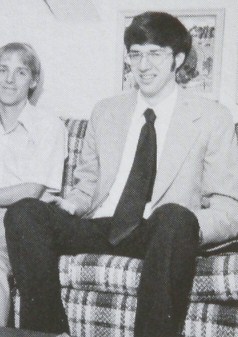 MarquetteHoops.com


On Jaunary 25, 2005, Tim Blair and Marquette92 formed a "blog" on Marquette basketball. It quickly became a must-read website for Warrior fans, with articles on recruits, pre- and post-game analysis, statistical analysis, clips of articles around the web, and other original content. Since its inception, CrackedSidewalks has added a few other writers to their team including Steve Sussina, Kevin Buckley, Rob Lowe, Jr. and John Pudner. It has a daily readership of around 2,000 during the season.

CrackedSidewalks.com
After the demise of RingOutAhoya.com in 2006, rocky_warrior, Spiral97 helped by SoCalWarrior, and MU_Hilltopper, formed a new website to fill the void. The website is dominated by an active message forum, game-time chat, and the wiki you are reading right now!
Started in March 2007, MarquetteWatch replaced RingOutAhoya as the Marquette forum on the Rivals.com network. Initially the site was published and moderated by Darren Maas, who took over after the downfall of RingOutAhoya. Maas ended up leaving the site, and in February 2008, John Eshoo became publisher and moderator. Original content and forum activity have all but evaporated, leaving the Rival's site a shell of its former self.