MUScoop Wiki - By the fans, for the fans.
Charles (Mandy) Johnson #20
Position: Guard
Height: 6'0"
Weight: 175 lbs.
Birthdate: November 18, 1962
Hometown: Jersey City, NJ
High School: St. Anthony's in Jersey City, NJ

High School Career
Marquette Career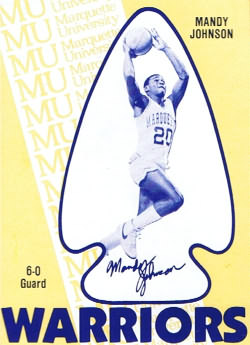 Mandy averaged 8.1 points per game as a sophomore and 8.5 points per game as a junior. He led the team in field goal percentage (.524, 88 of 168 attempts) during the 1982-1983 season. As a senior, Mandy averaged 11.7 points per game and was named team co-captain for the 1984-85 season.
Marquette All-Time Rankings
All-Time Single Season Rankings
2nd, Steals (87)

7th, Steals (75)
All-Time Senior Season Rankings
All-Time Junior Season Rankings
All-Time Sophomore Season Rankings
All-Time Freshman Season Rankings