MUScoop Wiki - By the fans, for the fans.
Marquette Sports Wiki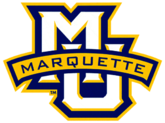 Welcome to the MUScoop Wiki!
The primary purpose of this Wiki is to archive Marquette sports information and history. In time, this wiki will become the one-stop-shopping repository for records, player statistics and biographies and team results for all MU sports teams.
All MUScoop members can edit this wiki - just click here to login with your username and password.



Sports
NCAA Division I Sports
Discontinued Sports
Club Sports
Athletic Department
2015 Marquette Scoop Meme Pool
Marquette Nickname History
Marquette Traditions
Marquette University Links