MUScoop Wiki - By the fans, for the fans.
Gerald Posey #3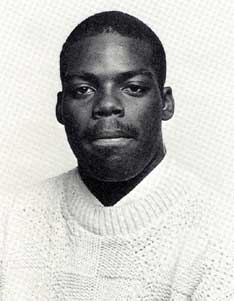 Position: Point Guard
Height: 6'0"
Weight: 170 lbs.
Birthdate: April 17, 1969
Hometown: Trenton, NJ
High School: McCorriston Catholic H.S.

High School Career
Posey attended Solebury Prep in New Hope, Pennsylvania for two years, but transferred back to his hometown high school for his junior year. As a junior, he led John Castaldo's team to a record of 22-7, advancing to the finals of the South Jersey Tournament. He averaged 17 points, seven rebounds and nine assists that year, helping his team win the Eastern States Christmas Invitational Tournament and the Mercer County Tournament.

In 1987, he led McCorriston to a record of 27-1 and was regarded as one of the top point guards in the nation. HoopScoop placed him on the nineteenth team of a final list of 1987 recruits, Top 100 Seniors. He averaged 18.7 points, 11.2 assists, 7.3 rebounds and 6.3 steals for the Iron Mikes, leading them all the way to the 1987 New Jersey State Interscholastic Association South Jersey Parochial A Championship game. Gerald scored 32 points in the 77-68 loss to the Christian Brothers Academy. He left as the all-time leading scorer in Mercer County history, with 1,694 points.

Accolades
1985 Eastern States Christmas Invitational All-Tournament Team

1986 Mercer County Tournament All-Tournament Team

1986 Colonial Valley All-Conference

1986 All-Mercer County

1987 All-Mercer County

1987 AP All-State, Second Team

1987 All-State Parochial Schools, First Team

1987 Bridgeport Games All-Star Selection
High School Coach John Castalo- "Gerald is an exceptional person, in addition to having excellent basketball skills. He's the kind of player who will do whatever you ask him to and will get better in college."

Gerald on choosing MU- "I decided to attend Marquette, because I really liked it when I visited there in September (1986). The people I met in Milwaukee showed a genuine concern for me as a person, just like the teachers I had at McCorriston. I really wanted to attend a Catholic university and I think I will have a chance to come in and contribue immediately. I like Milwaukee. It's a great town. It's not too big like New York City, but it's not a small town either. I think the people there are tuned into Marquette basketball."
Marquette Career
Bob Dukiet on Gerald- "Gerald is a playmaking guard, who is a coach on the floor. He will be in charge of the basketball and has the ability to make players around him play better. He has the ability to run the team. The year's layoff will hurt and it will take a few games for him to become the good defensive player we expect him to be."
1987-88
Posey failed to meet the required academic standards for eligibility and was kept off the court as a "Prop 48" player as a freshman.
1988-89
Posey had a falling out with Bob Dukiet and left the team, eventually transferring to Trenton State.