MUScoop Wiki - By the fans, for the fans.
Jim Dudley #40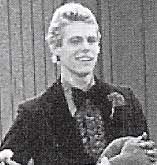 Position: Forward
Height: 6'6"
Weight: 190 lbs.
Born:
Hometown: South Milwaukee, WI
High School: Racine Prairie H.S.

High School Career
Dudley was team MVP for three seasons and captain as a junior and senior at Racine's Prairie School.
He received numerous accolades over his prep career: All-Racine (two years); All-State (one year); and All-American (one year).
Also, he broke Jim Chones's Racine prep career scoring mark as Racine's three-time scoring leader.
As a senior, Dudley averaged 24 points and 16 rebounds; 24 points and 14 rebounds as a junior; and 23 points and 15 rebounds as a sophomore.
Dudley was also talented as a tennis player, winning numerous prep tennis tournaments and was the runnerup in number two singles in the state meet. He planned to play tennis for Marquette as well.
Before committing to Michigan State, he had considered offers from Marquette, Wisconsin, and Duke.
Collegiate Career
Dudley originally signed with Michigan State and transferred to Marquette after his freshman season.
| | G | MIN | MPG | FG | FGA | FG% | FT | FTA | FT% | REB | RPG | PF | AST | PTS | PPG |
| --- | --- | --- | --- | --- | --- | --- | --- | --- | --- | --- | --- | --- | --- | --- | --- |
| 1976-77 Marquette | 17 | 9.5 | 5.6 | 10 | 24 | 0.417 | 6 | 10 | 0.600 | 29 | 1.7 | 18 | 5 | 26 | 1.5 |