MUScoop Wiki - By the fans, for the fans.
Marcus Washington #55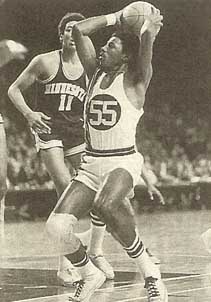 Nickname:

Position: Guard

Height: 6'1"

Weight: 160 lbs.

Birthdate:

High School: Lyons Township H.S. in Lyons, IL
High School Career
He starred for Lyons Township and was named the 1969 Proviso West Tournament Most Valuable Player. He was a key factor behind Lyons Township first tournament championship as the Lions rolled through the competition by winning margins of 32, 28, 16 and 16 points. The Lions also rolled through regular season competition as well, as they won the state tournament title with a perfect 31-0 undefeated record.
In 2000, the Proviso West Tournament - in honor of their 40th year in existence - had fans, media, coaches, and former players vote for the tournament's Top 40 All-Time Tournament Team, including most influential individuals. Washington was selected as one of the top 40 players along with other Marquette notables: Evanston's Bob Lackey and Proviso East's Glenn "Doc" Rivers.
Marquette Career
Marcus Washington played for Marquette from 1972-1974 and averaged 11.8 points per game as a sophomore, 8.8 points per game as a junior and 9.7 points per game as a senior guard and team captain for the 1974 NCAA Runners Up team.
During his sophomore year, he led the team in assists, scored in double figures in 19 games, and hit a season high of 23 points in one game.
During the 1974 NCAA postseason, Washington - the lone senior - led the Warriors with 17 points in a 72-70 win over Michigan in the Mideast Regional Final. In the National Semifinal win against Kansas, he was the second leading scorer with 16 points (5-12 FG, 6-11 FT). In the Championship loss, Washington scored 11 points on 3 for 13 FGs, 5 for 8 from the line, and 4 rebounds.
Washington was known as a good defensive player and a very good penetrator. He was also known to be lightning quick, but needed to learn how to control his speed. Moreover, he was viewed as not physically strong and faced stamina problems at times.
In a 2000 Chicago Sun-Times article about Al McGuire, Bo Ellis shared some stories with Coach McGuire before he passed. One of them involved Marcus Washington:
"One of my all-time favorites for Coach, and I told him the other day, was at practice when (players) Marcus Washington and Dave Delsman got into each other's face and Coach steps in to break it up," Ellis said. "Marcus steps back, but Delsman won't stop, so Coach says, `I say that's enough.' Delsman starts cursing, and he and Coach curse back and forth. Coach grabs him by his shoulders and they start wrestling. Before I know it, they're on the floor, rolling around in a bear hug. That was my very first practice ever at Marquette. I was back in the corner watching this thing and thinking, `What have I gotten myself into?'"
Sophomore Season All-Time Rankings
10th (tie), Assists (109)
Professional Career
Washington was a 10th round pick of Houston (166th overall) in the 1974 NBA draft. He was also a ninth round draft choice of Carolina in the 1974 ABA draft, but never played in either league.