MUScoop Wiki - By the fans, for the fans.
Marquette holds off St. John's in Big East opener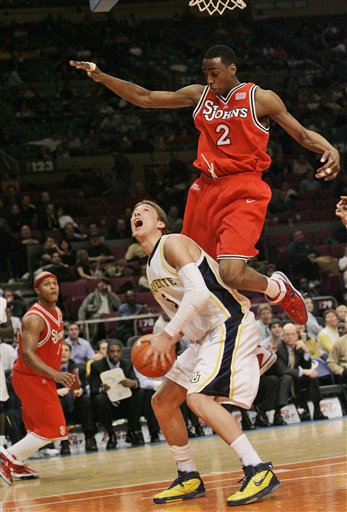 NEW YORK (AP) – Marquette needed to huddle up and quickly analyze the situation. Its big lead was gone and St. John's was scoring at will.
The Golden Eagles knew if they weren't careful, the Red Storm might send them home early from the Big East tournament.
"We just wanted to focus on our defense," guard Dominic James said. "They were stealing momentum from us. We were emphasizing getting stops."
Marquette held St. John's to three points over the next 4 1/2 minutes and regained control. Dan Fitzgerald scored eight of his 20 points during the game-turning 15-3 run and the 18th-ranked Golden Eagles held off upset-minded St. John's 76-67 in the opening round Wednesday night.
"We totally anticipated a tough game with St. John's," Marquette coach Tom Crean said. "They have so many good, young players."
Wesley Matthews added 15 points and Lazar Hayward 14 for the sixth-seeded Golden Eagles (24-8), who advanced to play third-seeded Pittsburgh (25-6) on Thursday. It will be third game between the teams, with Marquette winning both – including last Saturday night.
"They've been great games all across the board," Crean said. "We've just been fortunate, I guess, at the end of the games."
Marquette won despite playing without Jerel McNeal, a second-team all-Big East selection who averages 14.7 points, 4.8 rebounds, 3.8 assists and 2.6 steals. The sophomore guard injured a thumb in practice last Friday and didn't play in Saturday's regular-season finale against Pittsburgh. He's day to day, and it was uncertain if he'd play Thursday.
"We knew with Jerel out, everyone had to step up," Fitzgerald said. "We had nine guys playing, and everyone stepped up."
Anthony Mason Jr. scored 19 points and Aaron Spears 18 for 11th-seeded St. John's (16-15), which was short-handed and playing in its first Big East tournament in four years – and first under coach Norm Roberts.
"It's tough, but I'm not satisfied," Mason said. "I'm proud of what we did. We showed a lot of character."
One major key to the game was Marquette's domination on the boards, as the Golden Eagles outrebounded St. John's 41-28.
"They were 12-2 when they outrebounded their opponents," Crean said. "We didn't want to make it 13."
The Golden Eagles slumped down the stretch, losing four of their last six regular-season games, but beat Pittsburgh 75-71 on Saturday. It appeared Marquette might be headed for an early exit from the Big East tournament when St. John's got going early in the second half.
Marquette took a 10-point lead for the second time on Hayward's layup with 16:25 to go. But St. John's went on a 10-0 run, led by a jumper and two 3-pointers by Mason, who missed the end of the first half with a sprained ligament in his right hand.
"It just got kicked," Mason said. "It hurt when I shot."
With his hand heavily bandaged in the second half, Mason drained a 3 with 14:13 left, sending the pro-St. John's crowd into a frenzy. That included Mason's father, Anthony, who played on the same court for five years with the New York Knicks.
"It's probably the most fun I had coaching at St. John's, to tell you the truth," Roberts said. "With the pressure of the game and the atmosphere – it was awesome."
On Marquette's next possession, James had his shot blocked by Eugene Lawrence, and Larry Wright converted a layup to tie it at 45 with 13:48 remaining – again sending the St. John's fans to their feet.
"I was real proud of my teammates and the effort they gave," Lawrence said.
Marquette ended the upset hopes by regaining control with a 15-2 run, capped by Fitzgerald's two free throws for a 60-48 lead with 9 minutes left. St. John's never fully recovered despite a valiant effort.
The Red Storm whittled the lead to four twice, the last time at 68-64 on Mason's two free throws with 35.5 seconds left. But Matthews made two fouls shots 2 seconds later, and Marquette made its free throws in the final moments to seal the win.
St. John's was without senior forward Lamont Hamilton, the team's leading scorer and rebounder who partially tore a tendon in his left knee in a victory over Providence on Sunday. The school announced earlier Wednesday that Hamilton won't need surgery, but will be sidelined six to eight weeks, ending his college career. He led the Red Storm with 13.4 points and 6.5 rebounds per game.
The Red Storm also were without senior guard Daryll Hill, who missed the last 12 games of the regular season, also with an injured left knee.
"Both teams had to play without a star and they didn't miss a beat," Crean said.
Box Score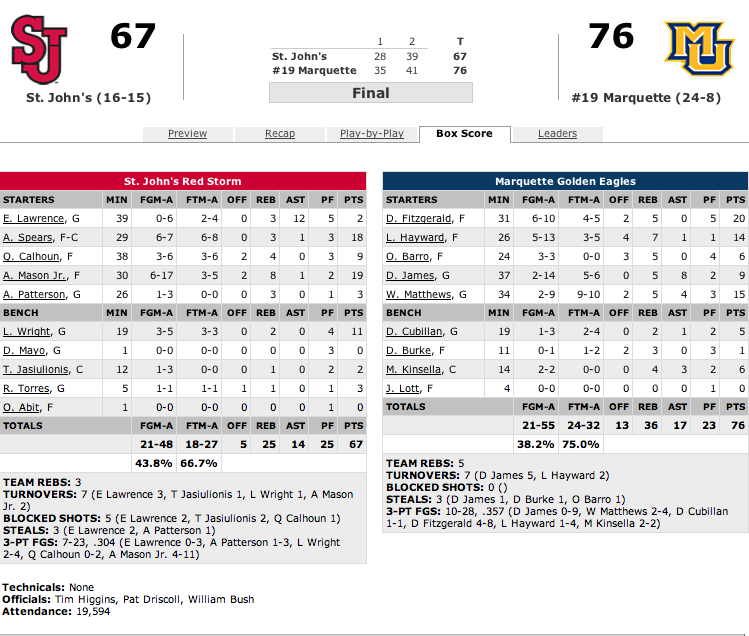 Official Basketball Box Score


Official Basketball Box Score
18/19 Marquette vs St. John's
03/07/07 9 p.m. at New York, N.Y. (Madison Square Garden)

--------------------------------------------------------------------------------
VISITORS: 18/19 Marquette 24-8
                          TOT-FG  3-PT         REBOUNDS
## Player Name            FG-FGA FG-FGA FT-FTA OF DE TOT PF  TP  A TO BLK S MIN
05 Dan Fitzgerald...... f  6-10   4-8    4-5    2  3  5   5  20  0  0  0  0  31
32 Lazar Hayward....... f  5-13   1-4    3-5    4  3  7   1  14  1  2  0  0  26
41 Ousmane Barro....... c  3-3    0-0    0-0    3  2  5   4   6  0  0  0  1  24
01 Dominic James....... g  2-14   0-9    5-6    0  5  5   2   9  8  5  0  1  37
23 Wesley Matthews..... g  2-9    2-4    9-10   2  3  5   3  15  4  0  0  0  34
10 David Cubillan......    1-3    1-1    2-4    0  2  2   2   5  1  0  0  0  19
12 Dwight Burke........    0-1    0-0    1-2    2  1  3   3   1  0  0  0  1  11
40 Mike Kinsella.......    2-2    2-2    0-0    0  4  4   2   6  3  0  0  0  14
51 Lott, Jamil.........    0-0    0-0    0-0    0  0  0   1   0  0  0  0  0   4
   TEAM................                         2  3  5             1
   Totals..............   21-55  10-28  24-32  15 26 41  23  76 17  8  0  3 200

TOTAL FG% 1st Half: 12-28 42.9%   2nd Half:  9-27 33.3%   Game: 38.2%  DEADB
3-Pt. FG% 1st Half:  5-13 38.5%   2nd Half:  5-15 33.3%   Game: 35.7%   REBS
F Throw % 1st Half:  6-9  66.7%   2nd Half: 18-23 78.3%   Game: 75.0%    5


--------------------------------------------------------------------------------
HOME TEAM: St. John's 16-15
                          TOT-FG  3-PT         REBOUNDS
## Player Name            FG-FGA FG-FGA FT-FTA OF DE TOT PF  TP  A TO BLK S MIN
01 CALHOUN, Qa'rraan... f  3-6    0-2    3-6    2  2  4   3   9  0  0  1  0  38
02 MASON, Anthony...... f  6-17   4-11   3-5    2  6  8   2  19  1  2  0  0  30
40 SPEARS, Aaron....... c  6-7    0-0    6-8    0  3  3   3  18  1  0  0  0  29
04 LAWRENCE, Eugene.... g  0-6    0-3    2-4    0  3  3   5   2 12  3  2  2  39
15 PATTERSON, Avery.... g  1-3    1-3    0-0    0  3  3   1   3  0  1  0  1  26
05 WRIGHT, Larry.......    3-5    2-4    3-3    0  2  2   4  11  0  1  0  0  19
10 MAYO, Devin.........    0-0    0-0    0-0    0  0  0   3   0  0  0  0  0   1
11 JASIULIONIS, Tomas..    1-3    0-0    0-0    0  1  1   2   2  0  1  2  0  12
22 TORRES, Ricky.......    1-1    0-0    1-1    1  0  1   1   3  0  0  0  0   5
33 ABIT, Otoja.........    0-0    0-0    0-0    0  0  0   1   0  0  0  0  0   1
   TEAM................                         2  1  3
   Totals..............   21-48   7-23  18-27   7 21 28  25  67 14  8  5  3 200

TOTAL FG% 1st Half:  9-23 39.1%   2nd Half: 12-25 48.0%   Game: 43.8%  DEADB
3-Pt. FG% 1st Half:  4-12 33.3%   2nd Half:  3-11 27.3%   Game: 30.4%   REBS
F Throw % 1st Half:  6-9  66.7%   2nd Half: 12-18 66.7%   Game: 66.7%   3,1


--------------------------------------------------------------------------------
Officials: Tim Higgins, Pat Driscoll, William Bush
Technical fouls: 18/19 Marquette-None. St. John's-None.
Attendance: 19594
Score by Periods                1st  2nd   Total
18/19 Marquette...............   35   41  -   76
St. John's....................   28   39  -   67