MUScoop Wiki - By the fans, for the fans.
This is an old revision of the document!
---
No. 12 Marquette, 80, Villanova 67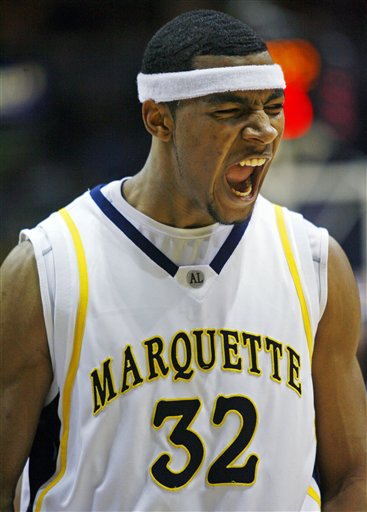 MILWAUKEE (AP) – Freshman Lazar Hayward scored a career-high 18 points to lead No. 12 Marquette to a 80-67 victory over Villanova on Monday night. Hayward, who entered the game averaging six points per game, had 13 in the first half before fouling out late in the second. Wesley Matthews added 16 points for the Golden Eagles (22-7, 9-5 Big East), who snapped a three-game losing streak. Marquette made all 16 of its free throws in the final 5:58 of the game. Matthews was 12-for-12 from the free throw line. Scottie Reynolds scored 25 points for Villanova (18-9, 6-7), which lost its second straight game. Curtis Sumpter added 14 points. The Wildcats' last four losses have come against Top 25 teams.
Box Score