MUScoop Wiki - By the fans, for the fans.
Mike Broeker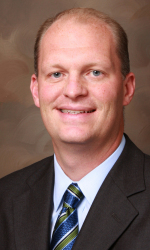 Mike Broeker is in his sixth year at Marquette and his second as Deputy Athletic Director after serving as an associate athletic director for two years.
In his capacity, Broeker oversees several areas, including marketing, media relations, licensing and merchandising (Spirit Shop), Nelligan Sports Marketing and ticket operations. He is the Chief Operating Officer responsible for management of Marquette's 14-sports NCAA Division I intercollegiate athletics program. He is also the sport administrator for men's and women's basketball and men's soccer.
Broeker joined the Marquette Athletics staff in November 2003 as Assistant Athletic Director for Media Relations, after nearly four years as a member of the basketball communications group at the NBA.
While at the NBA, he worked to generate awareness and publicity for the league, its executive staff, events and initiatives and served as the primary contact for local and national electronic media outlets.
Prior to working with the NBA, Broeker spent two years working in the communications group for the Women's Tennis Association (WTA). He served as a primary on-site media contact for events including Wimbledon, the Australian Open, the U.S. Open, and the French Open.
A graduate of Siena College, Broeker earned a bachelor of arts in English in 1997 and worked as a Marketing/Sports Information Assistant until 1998.
Personal
Broeker and his wife, Anne, have two sons, Michael born in 2006 and Daniel born in 2008.
Photos