MUScoop Wiki - By the fans, for the fans.
The Corner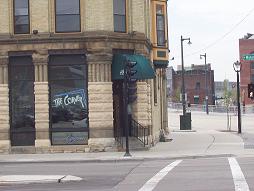 Resting peacefully at the intersection of Water and Knapp by day, The Corner turns into a raucous party after dark, attracting a slew of primarily underage drinkers from several Milwaukee-area colleges (and probably a few high schools as well).
Although The Corner was a fairly popular hangout since its inception, its allure seemed to increase during the 2003-2004 school year, when Angelo's suddenly became less tolerant of teen drinkers and began to turn away the hundreds of freshmen, sophomores, and young juniors that faithfully patronized the venerable establishment. This flock of undergrads migrated a mile or two east to The Corner, a modern watering hole known for its long bar, Planet Hollywood-meets-Applebee's decor, and yes, its unusually young clientele.
Regardless of the legality of its customers, The Corner can become incredibly crowded, especially on Friday and Saturday nights. In early 2005, the bar was fined over $39,000 by Milwaukee police for being far too crowded - to the tune of more than 70 individuals over capacity. Although this penalty forced The Corner to more closely monitor the flow of guests, it fills up quickly and can feature long lines with extended waits.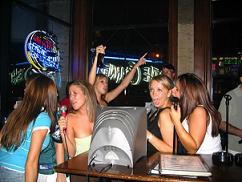 Once inside, local drinkers are treated to a barrage of popular hip-hop and R&B music accompanying a fair selection of tap and bottled brews. Fruity drink and shot combinations are prevalent as well, and appear to be the refreshment of choice for females choosing to "work The Corner," as their free 21st birthday T-shirts advertise.
It almost goes without saying that the combination of beer,hard liquor, underage students, and "just the right atmosphere" makes The Corner a fertile breeding ground for random hookups and occasionally regrettable one-nighters, a fact that is only amplified on the weekends. However, its Friday happy hour specials and various deals throughout the week firmly qualify it as a good place to kick back, relax, and enjoy a drink or two as well.
Despite its name, it's not your average corner bar. But its flaws combine with its strengths, and its energy can be electric. This author thoroughly endorses a visit - you have to experience The Corner at least one semester during your time at Marquette.