MUScoop Wiki - By the fans, for the fans.
Theo's Food and Spirits
Theo's Bartender Hall of Fame
Chuck Doerrer - the Michael Jordan of the cocktail!

Matt Namazzi
The Bartenders were the heart and soul of Theo's.
Drunk: "How Much?"

Bartender X: "Ahhhhh, how 'bout seven dollars?"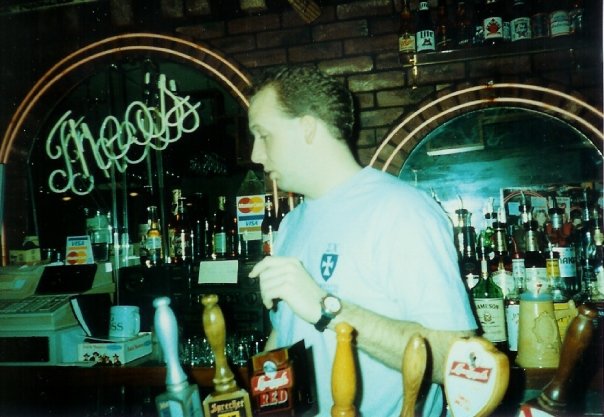 The History
The Perfect Theo's Sound Track would be:
Sugar Mountain - Neil Young

Cantaloop - Us3

Cleaning Windows - Van Morrison

Thunder Road - Bruce Springsteen

Too much - Dave Matthews Band

Jack and Dianne - John Cougar Mellancamp

Reelin' In The Years - Steely Dan

Handle With Care-Traveling Wilburys

Gin and Juice - Snoop Dogg

Blackbird - Beatles

Melissa - Allman Brothers

Sabotage - Beastie Boys

Still the Night - BoDeans

Insane in the Brain - Cypress Hill

Cold Shot - Stevie Ray Vaughan

After Midnight - Eric Clapton

Steady Mobbin - Ice Cube
Click Edit to the right to add a new song
Things I Saw While Drinking at Theo's
I once saw a man lose a fake tooth, then the tooth was thrown out in the trash and a few mins later it was found and the man put his fake tooth back in!

I once saw Greikas say to a bartending Cavanaugh, "Easy Kevin. I'm losing my ass on that ice."

The impromptu "Rembrants" concert on the back porch.

Jagermeister and McGillicudy's on tap!!! Bar dice anyone?

Andrew Scholl getting ticketed for underage smoking.

"That Agnew gets all the ladies" - Greikas

Pregaming at Theo's before a Beastie Boys show and at the show, Mike D saying onstage that they were late because of this awesome bookstore they couldn't leave (next door to Theo's).
This is and always was the only SUPER BAR!!!! For all the good times we cannot remember!!!!