MUScoop Wiki - By the fans, for the fans.
Union Sports Annex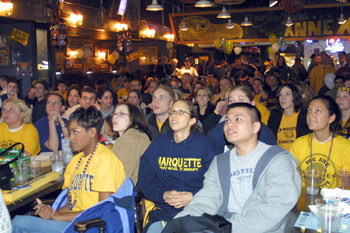 The Union Sports Annex is the premier entertainment facility in the heart of the Marquette University campus. It is located on 16th and Wells Streets (Google map). The 24,000 square foot complex includes a restaurant, bowling center and sport court.
The Annex houses an impressive array of Marquette memorabilia. The rich Marquette tradition is everywhere, while dozens of flat screen televisions and free WI FI keep you up to date in the present.
Marquette University owns and operates the facility, but it is open to the entire Milwaukee community. You must be 18 or older or be accompanied by a parent. All areas are wheelchair accessible and available for rental.
The Annex is non-smoking throughout until 9:00 p.m. Menu items are available in the restaurant or for carry out. Call us at (414) 288-SPNX (288-7769) to place a carry out order.
We also provide the Golden Eagle Express Shuttles for every men's basketball home game. The shuttles are free for everyone, and take you to the Bradley Center beginning an hour and a half before tip-off, and return you to the Annex after the game.