MUScoop Wiki - By the fans, for the fans.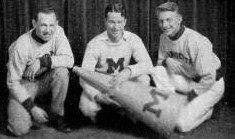 Marc Sharples, Junior Medic, again lead the cheering squad in 1927-28, consisting of Jack Deauville, Larry donath and Leon Bordner. These boys were on duty at every home game in both football and basketball. At the St. Louis game, although they were on foreign ground and had the smallest cheering section, these fellows succeeded in getting more noise out of the crowd, than the St. Louis cheerleaders did.
They were always on the job with pep and noise when it was needed and did more than their share toward the subjugation of the unruly Freshmen. Marquette cheering was unorganized years ago, but in the last few seasons it has increased wonderfully and it is chiefly due to the spirit and work of our cheerleaders. Various new yells were tried with great success.