MUScoop Wiki - By the fans, for the fans.
Al McGuire Center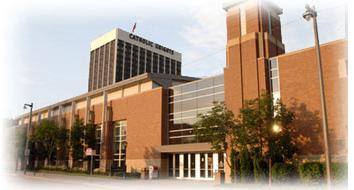 Named in honor of Legendary Coach Al McGuire The Al McGuire Center provides the best possible environment for the development of Marquette University's student-athletes academically, athletically and personally.
Accordingly, the Al McGuire Center, a $31-million, 120,000-square foot facility features first-class practice courts for men's and women's basketball and volleyball, large and comfortably designed men's and women's locker rooms and lounges; a media room to accommodate local and national press;
A two-tiered, 4,000-seat arena for women's basketball and volleyball games, complete with concession areas; the Marquette University Athletics Hall of Fame, which will serve as a small museum promoting the fine tradition of Marquette athletics, including a prominent display dedicated to Coach McGuire; and the Commons Area, located in the arena concourse, which will serve as a gathering place for pre-and post-game receptions and other University events.
Equally important, the Center includes academic support facilities equipped with computers and spaces designated for study and tutoring, sports medicine facilities designed to provide rehabilitation and physical therapy to student-athletes with sports injuries, and a strength and conditioning center containing the latest equipment to help student athletes achieve optimal physical fitness.
The ground floor of the Al McGuire Center features locker room facilities for women's and men's basketball. Those locker facilities are complete with a welcoming lounge area, large lockers and meeting space and all the extras that a competitive athlete would need.
A state-of-the-art athletic training facility exists just off the women's basketball locker area. The athletic training staff has a generous treatment area and hydrotherapy facility to keep Marquette student-athletes healthy.
A large strength and conditioning area keeps the Marquette student-athletes in top shape. Loaded with the newest equipment and an area with a wood floor and high ceiling, the area offers plenty of options for training outside of the practice setting.
A practice gym and game floor offer practice and competition facilities for multiple Marquette sports to happen at any given time. In addition, the entrance to the women's basketball locker room is literally steps off the playing surface.
Floor Plans
Directions
From the South on I-43/I-94 (Chicago and Mitchell Airport)
1. Stay on I-43 toward Green Bay to Exit # 72A - 10th Street and Michigan/Tory Hill 2. At bottom of ramp continue straight ahead 1 short block to Wisconsin Avenue 3. Turn L on Wisconsin and go 2 blocks to 12th Street 4. Turn R on 12th and go ½ block 5. McGuire Center on right
From the West on I-94 (Madison)
1. Exit #310A - 13th Street. 2. Turn L at bottom of ramp and go ½ block to Clybourn Street 3. Turn R on Clybourn and go 3 blocks to 10th Street 4. Turn L on 10th and go 1 block to Wisconsin Avenue 5. Turn L on Wisconsin and go 2 blocks to 12th Street 6. Turn R on 12th and go ½ block 7. McGuire Center on right
From the North on I-43 (Green Bay)
1. Exit # 72E - Highland Avenue and 11th Street 2. Turn R at top of ramp - Highland Avenue 3. Get in L lane and immediately turn L on 12th Street 4. Go 3 ½ blocks 5. McGuire Center on left
Seating Chart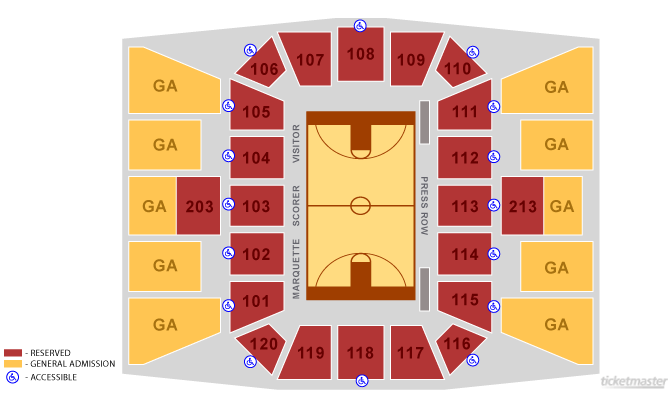 Photos