MUScoop Wiki - By the fans, for the fans.
Bob Hornak #52
Position: Guard/Forward
Height: 6'4"
Weight: 190 lbs.
Born:
Hometown: Milwaukee, WI
High School: Milwaukee Marquette H.S.

High School Career
Bob earned All-Catholic Conference and All-State honors in his junior and senior seasons at Marquette High.
Marquette Career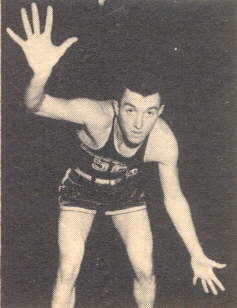 1959-60 (Freshman Team)
Bob averaged 10.8 points per game.
1960-61
Bob averaged 9.4 points and 5.6 rebounds per game.
"Averaged 10.8 points a game as a freshman. Earned Catholic all-state honors at Marquette high. Has good speed and is dangerous with a long jump shot."
1961-62
As a junior, Hornak averaged 14.5 points and 7.8 rebounds per game.
1962-63
Hornak averaged 11 points and 7.7 rebounds per game as a senior.
All-Time Marquette Rankings
32nd (tie), Rebounds (563)