MUScoop Wiki - By the fans, for the fans.
Bob Walczak #23/41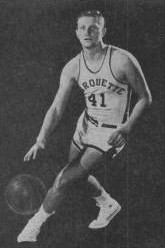 Nickname: "Old Man"
Position: Guard
Height: 6'0"
Weight: 183 lbs.
Born:
Hometown: Milwaukee, WI
High School: Milwaukee South Division H.S.

High School Career
Walczak was a three year All-City Conference selection at Milwaukee South Division High School.
Marquette Career
He scored 794 points and averaged 7.8 points per game in his career.
Also, he made 256 of 318 free throw attempts in his career, for a .805 mark.
Despite leaving for military duty, Walczak did not miss a free throw until the eighth game of the 1954-55 season. For that season, he made 104 of 118 free throw attempts, a .881 mark.
1951-52 Season
Walczak averaged 7.5 points per game as a freshman.
As a starting guard for the Frosh team, he helped lead the junior Warriors to a National Catholic Invitational Tournament title.
1952-1954 (Military Service, U.S. Army)
For two years, Walczak won All-European service honors while in the service.
1954-55 Season
Walczak returned from military service as a 23-year-old sophomore. "The Old Man" averaged 9.4 points per game. At South Bend, Indiana, Walczak scored 27 points versus Notre Dame. He also tallied 18 against Drake and 16 in a victory over Miami (OH) in the first round of the NCAA Tournament. Eventually, he led MU to the NCAA Regional Final, where they lost to Iowa, 86-81. Walczak finished the season ranked second nationally in free throw accuracy, making 104 free throws in 118 attempts (88.1%)
1955-56 Season
Bob was third on the team in scoring during his junior campaign, averaging 8.2 points per game.
1956-57 Season
Walczak averaged 5.8 points per game during his senior year.
All-Time Career Leader Rankings
6th, Free Throw Percentage (min. 200 att.) (81.3%)
All-time Single Season Rankings
2nd, Free Throw Percentage (min. 100 att.) (88.1%)
All-Time Sophomore Season Rankings
9th, Free Throws Made (104)

1st, Free Throw Percentage (min. 100 att.) (88.1%)