MUScoop Wiki - By the fans, for the fans.
Dave Erickson #21
Position: Forward/Center
Height: 6'7"
Weight: 195 lbs.
Born:
Hometown: Duluth, MN
High School:

High School Career
Marquette Career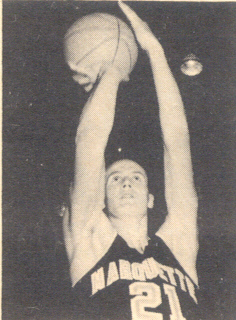 1959-60 (Freshman Team)
Erickson averaged 13.5 points per game.
1960-61
Erickson averaged 9.7 points and seven rebounds per game as a sophomore.
"Was an all-stater in high school. Averaged 13.5 points a game as a freshman. Very strong defensively and under the boards. Has a good shot from the corner."
1961-62
As a junior, Erickson, whom Hickey named the finest defensive player on the squad, averaged 12.6 points per game and led the team in rebounding (8.4 rpg).
1962-63
Erickson averaged 15.7 points per game as a senior and again led the team in rebounding (8.8 rpg).
All-Time Marquette Rankings
All-Time Senior Season Rankings
9th (tie), Rebounding Average (8.8)