MUScoop Wiki - By the fans, for the fans.
Dwayne "D.J." Johnson #22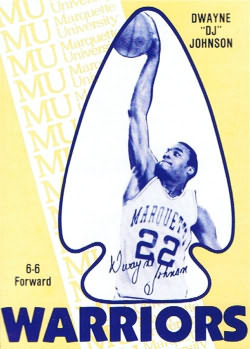 Position: Forward
Height: 6'6"
Weight: 190 lbs.
Birthdate: June 22, 1962
Hometown: Long Island City, NY
High School: Delafield St. John's, Oak Hill Academy, Mater Christi

High School Career
Scored 1,095 points, including 607 as a junior. Named AP & UPI all-state second team as a sophomore and AP & UPI all-state first team as a junior, before transferring to Oak Hill Academy for his senior year.
Marquette Career
Dwayne averaged 8.3 points per game as a freshman and 12.3 points per game as a sophomore. During the 1982-1983 season, he scored in double-figures 20 times, including a 22 point, 12 rebound outing against Arizona State on January 4, 1983. Dwayne led Marquette in scoring (14 ppg) during the 1983-84 season.
All-Time Marquette Rankings
39th (tie), Points (1,027)
All-Time Senior Season Rankings
9th, Field Goal Percentage (min. 200 att.) (51.3%)
All-Time Junior Season Rankings
All-Time Sophomore Season Rankings
7th, Field Goal Percentage (min. 250 att.) (49.7%)

8th (tie), Blocked Shots (22)
All-Time Freshman Season Rankings
5th, Field Goal Percentage (min. 200 att.) (50.5%)
Accolades
1983 Milwaukee Classic MVP