MUScoop Wiki - By the fans, for the fans.
Ed Daniels #33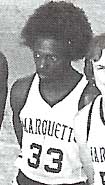 Position: Guard
Height: 6'3"
Weight: 185 lbs.
Birthdate:
Hometown: Savannah, GA
High School: Sol C. Johnson High School

High School Career
As a senior, Johnson averaged 23.6 points and 12.7 rebounds per game earning him All-American honors.
He was named MVP of the state tournament as a junior after leading his team to the state title.
Johnson once recorded 21 assists in a high school game.
Marquette Career
Daniels transferred to Marquette after his sophomore year at Indiana University, where he started seven games and played in twenty-four.
1971-72 Season
He sat out the 1971-72 season, partly due to a collapsed lung.
1972-73 Season
Johnson played in 25 games averaging 2.0 points and 1.0 rebound per game.