MUScoop Wiki - By the fans, for the fans.
Fr. William Kelly, S.J.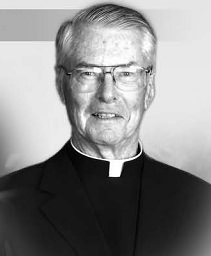 Father William Kelly, S.J. is entering his 23rd season as team chaplain for the Marquette basketball program.
Born and raised in Chicago, Father Kelly earned his bachelor's degree from Saint Louis University in 1948. Following a three-year teaching stint at Saint Louis University from 1948 to 1951, he went on to earn a master's degree in theology from St. Mary's College in Kansas.
Ordained in 1954, Father Kelly attended Catholic University in Paris from 1958 to 1961 and subsequently obtained his doctorate of theology from there in 1963.
Father Kelly taught at Marquette from 1961 until his retirement in 2000.