MUScoop Wiki - By the fans, for the fans.
Gary Rosenberger
Position: Guard
Height: 6'0"
Weight: 155 lbs.
Born:
Hometown: Milwaukee, WI
High School: Marquette H.S.

High School Career
Rosenberger played on two state championship teams (1972-73) at Milwaukee's Marquette High.
As a senior, he averaged 20 points and 9 rebounds a game, earning All-American honors from Parade and Scholastic magazines. He was also an Academic All-American choice his senior year.
Rosenberger's three-year record was 69-7.
Marquette Career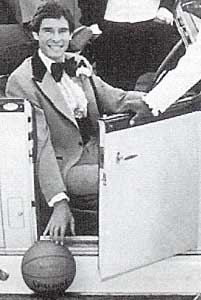 Rosenberger averaged 7.3 points per game during the 1976-77 season.
Professional Career
Drafted by the Milwaukee Bucks in the 9th round (12th pick) of the 1978 NBA draft.
Personal Notes
Rosenberger is a regional vice president for Countrywide Home Loans in Pittsburgh and has been in the mortgage banking 23 years.
Trivia
Marquette teammate, Ulice Payne, was drafted in the same round (9th) but a little higher (#4). In that same draft, other Marquette alums were selected: Butch Lee (1st round, pick #10 Atlanta Hawks), Jerome Whitehead (2nd, #19 Buffalo Braves), and Jim Boylan (4th, #2 Buffalo Braves).