MUScoop Wiki - By the fans, for the fans.
Guy Lam #30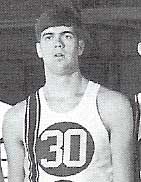 Position: Forward
Height: 6'8"
Weight: 200 lbs.
Birthdate:
Hometown: Arlington Heights, IL
High School: Brookfield East H.S. (WI)

High School Career
As a senior, Lam led Brookfield East to the consolation title in the State High School Tournament.
He was named to the AP First All-State Team and to the UPI Second All-State Team.
Marquette Career
1968-69 Season (Frosh Team)
Lam lead the freshman team in both scoring and rebounding averages, 19.8 and 8.9 respectively.
Personal
His daughter, Kelly Lam, played for the Marquette women's basketball team.