MUScoop Wiki - By the fans, for the fans.
Hugh McMahon #42/43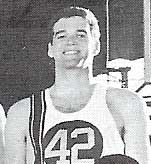 Position: Forward
Height: 6'5"
Weight: 205 lbs.
Born:
Hometown: Brooklyn, NY
High School: Erasmus H.S.

High School Career
Marquette Career
1967-68 Season (Frosh Team)
McMahon averaged 10.6 points and 10.1 rebounds per game.
1968-69 Season
In 17 games, he averaged 1.0 point and 0.4 rebounds a game.