MUScoop Wiki - By the fans, for the fans.
Jerome Clay Whitehead #54
Nickname: "Aircraft Carrier", "Muscle Beach"
Position: Forward/Center
Height: 6'10"
Weight: 220 lbs.
Born: September 20, 1956
Died: December 20, 2012
Hometown: Waukegan, IL
High School: Waukegan H.S.

High School Career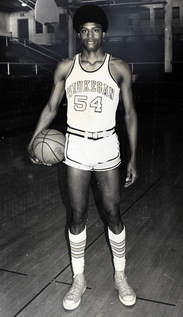 He told The News-Sun that he "barely made the freshman 'B' squad" at Waukegan.
Whitehead made the First-Team All-State while at Waukegan High.
In his senior year at WHS, he was recruited by between 150 and 200 colleges.
Riverside Junior College (CA) Career
In his only year at Riverside, Whitehead led his team to a 28-6 record and was named MVP of the Mission Conference.
He was the lone freshman named to the All-California Junior College honor team.
Marquette Career
Whitehead transferred to Marquette after only one year at Riverside JC.
He attended summer school at Marquette in 1975, working to boost his GPA while working in a bakery production line.
He averaged 8.9 points per game as a sophomore and 10.5 points per game as a junior. Jerome averaged 14 points per game as a senior and led Marquette in rebounding (8.3 rpg) during the 1977-78 season. He will always be remembered by Charlotte fans for a play they probably felt was offensive goaltending, but was not called, in the closing moments of the National Semifinal game in 1977. Whitehead told The News-Sun in 1977, "I had always wondered what it felt like to score the winning basket in an important game like that, ever since my cousin Rufus Woods (former North Chicago star) scored the winning basket against Waukegan in 1966…I had thought about it for a long time and finally it came true."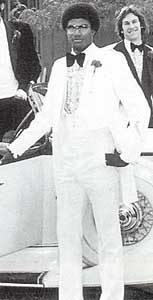 All-Time Marquette Rankings
All-Time Career Leader Rankings
2nd, Field Goal Percentage (min. 500 att.) (54.8%)
All-Time Senior Season Rankings
1st, Field Goal Percentage (min. 200 att.) (59.8%)
All-Time Junior Season Rankings
7th, Field Goal Percentage (min. 250 att.) (51.7%)
Accolades
1977 Milwaukee Classic MVP

1977-78 Chuck Taylor Converse All-American

1977-78 NABC All-American
Professional Career
Drafted by the San Diego Clippers in the 2nd round (19th pick) of the 1978 NBA draft.
On October 30, 1980, he was traded with Richard Washington by the Dallas Mavericks to the Cleveland Cavaliers for Bill Robinzine, a 1983 1st round pick via Atlanta (Derek Harper) and a 1986 1st round pick (Roy Tarpley).
He played in 11 NBA seasons for teams including the Utah Jazz, Dallas Mavericks, Cleveland Cavaliers, Golden State Warriors and San Antonio Spurs.
During his NBA career, Whitehead scored 4,423 points, made 3,268 rebounds and handed out 374 assists.
He was the most productive NBA player from the 1977 NCAA Championship team.
Personal Notes
Whitehead is a financial analyst with Primerica Financial Services in San Diego.
The Chicago Sun-Times article on his passing: "Whitehead's body was discovered Dec. 20 by a sister, according to a spokesman for the San Diego County Medical Examiner's Office. When she couldn't reach him by phone, the sister visited Whitehead's home in rural El Cajon, where she found him dead in the bathroom at about 6:20 p.m. Emergency personnel were summoned and confirmed the death, noting 'signs of decomposition,' the spokesman said.
An autopsy performed Dec. 21 found Whitehead died as a result of gastrointestinal hemmorhage related to chronic alcohol abuse." Chicago Sun-Times, 12/28/12