MUScoop Wiki - By the fans, for the fans.
Jerry Sichting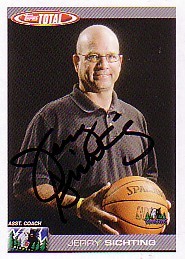 Jerry Sichting is in his first year on the men's basketball staff at Marquette University. Sichting joins the Golden Eagles after spending 10 years with the Minnesota Timberwolves organization, including the last nine as an assistant coach.
Sichting served as the Timberwolves director of scouting and player development prior to moving to the bench.Known throughout his NBA playing career as a hard-nosed, tenacious competitor,Sichting brought those same qualities of dedication with him to his first NBA front office and coaching position. Sichting acquired an in-depth knowledge of the pro game from his 10 seasons as a player in the NBA. He began his career in 1980 and spent the following five seasons with the Indiana Pacers, averaging a career-high 11.5 points per game during the 1983-84 season. In 1985, Sichting signed with the Boston Celtics as a free agent and became an integral reserve. In 1986, he helped lead the Celtics to the NBA title.Midway through the 1987-88 campaign, he was traded to the Portland Trail Blazers. He finished his playing career in 1989-90 as a member of the Charlotte Hornets and Milwaukee Bucks. Sichting appeared in 598 career regular-season games, recording an average of 6.9 points and 3.3 assists per game. He saw action in 47 playoff contests, posting averages of 3.0 points and 1.7 assists per outing.
After his playing career ended, Sichting remained in Boston and ran the Jerry Sichting Basketball Camp for five years. He also spent four seasons (1991-95) serving as the analyst on Boston Celtics radio broadcasts. His broadcast résumé also includes fill-in roles on radio and television with the Indiana Pacers during the 1990-91 season, commenting on various high school broadcasts throughout Indiana and a pregame show for his alma mater, Purdue University, on WTTV-TV.
Sichting was a four-year member of the Boilermakers basketball program and earned all-Big Ten honors following his senior season. A fourth round draft pick by the Golden State Warriors in 1979, he was inducted into the Indiana Basketball Hall of Fame in 2002.
A native of Martinsville, Ind., Sichting and his wife, Joni, have four children, Jared, a senior at Marquette University and member of the 2003 Final Four team, Jason, Jordan and Jenna.