MUScoop Wiki - By the fans, for the fans.
Joseph Aloysius "Red" Dunn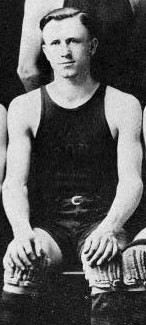 Position: Guard/Forward
Height: 5'10"
Weight: 175 lbs.
Born: June 21, 1901
Hometown: Milwaukee, WI
High School: Marquette Academy, Milwaukee, WI

High School Career
Marquette Career
1920-21
Dunn was the leading scorer on the 1920-21 squad
1921-22
"Red" Dunn is in a class by himself, when his work is compared to that of the best college forwards. He is a consistent scorer, stron on the defensive and possesses marked ability to aid in team work. Exceptionally quick of action, Dunn was hard to guard and scored an average of four baskets a game for the season.

1922-23
Dunn served as team captain during the 1922-23 season. He also played football for Marquette.