MUScoop Wiki - By the fans, for the fans.
Junior Cadougan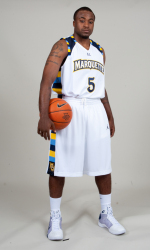 Class: 2009

Position: PG

Height: 6'1"

Weight: 190 lbs

Birthday: May 7, 1990

Hometown: Humble, TX (Toronto, Canada)

High School: Christian Life Center Academy

AAU Team: Grassroots Canada

Number: 5
Christian Life Center Academy
Consensus top-100 nationally ranked signee … rated 50th overall by Scout.com (fifth-best overall point guard), 60th by Rivals.com and 74th by ESPN.com … three-year letterwinner and starter at Christian Life Center Academy in Humble, Texas, under head coach Carlos Wilson … helped guide program to the National Association of Christian Athletes Elite Division I national title … was named the event's most outstanding offensive player … averaged 20.3 points and 8.3 assists per game in the event's three outings … program finished with an overall record of 35-2 … posted overall season averages of 22.0 points, 8.0 assists, 5.0 rebounds and 4.0 steals per game … shot 48.0 percent from the field and 42.0 percent from behind the 3-point line … named to all-area squad in greater Houston … tabbed team's most valuable player … selected to play in Reebok All-American Game … McDonald's All-America nominee … preseason all-area selection entering senior season … averaged 21.0 points, 8.0 assists and 3.0 steals per contest as a junior … helped team to 32-10 overall record … the Cougars finished 42-8 in 2006-07 … he chipped in 18.0 points, 7.0 assists and 3.0 steals per game that season … named to the all-underclassmen list by USA Today after averaging 18.8 points per contest at Community Christian High School in Stockbridge, Ga., as a freshman … competed for Grassroots Canada on the AAU circuit under Ro Russell … guided squad to 2008 titles at the adidas Super 64 and NBA Players Association Top-100 event … tabbed top playmaker at the NBA camp and was named to the all-create squad at the Reebok All-American Camp.
Marquette University
Commitment
Junior Cadougan gave an oral commitment to the Marquette Golden Eagles on July 6, 2008. He chose MU over Memphis, Wake Forest and Louisiana Tech, and also had scholarship offers earlier in the recruiting process from the likes of Louisville, Tennessee, Kentucky, Texas and USC.
2009-2010

Awarded the program's Hank Raymonds Sportsmanship Award … Missed first 18 games of the season after rupturing Achilles' tendon on Sept. 18 … During the November 21, 2009 contest versus Grambling State, Junior provided commentary with Steve "the Homer" True on the radio broadcast … Made his collegiate debut vs. Syracuse (1/23) and had two rebounds and a pair of assists in eight minutes … Garnered his first collegiate points with a pair of free throws vs. Rutgers (1/26) … Concluded the year averaging 0.3 points and 0.4 rebounds in just 12 appearances off the bench … Earned first letter.
2010-2011
Netted his first collegiate field goal in the second half of MU's 97-58 win over Prairie View A&M (Nov. 12) … Handed out four assists in 16 minutes vs. Green Bay (Nov. 17) … Scored five points vs. Duke (Nov. 22) and six of his seven assists came in the second half … Made his first collegiate start vs. Milwaukee (Nov. 27), recording two steals and his first collegiate blocked shot … Scored six points and added four rebounds vs. Longwood (Dec. 4), in addition to four assists … Handed out a team-high five assists vs. Texas A&M-CC (Dec. 7) … Missed game vs. Mississippi Valley State (Dec. 21) due to illness … Tallied eight assists, and just one turnover, in 29 minutes of action vs. Rutgers (Jan. 5) … Went 8-of-9 from the free throw line and scored nine points vs. Louisville (Jan. 15) … Picked up a career-high four steals in win over DePaul (Jan. 18) … Scored seven points on three field goals vs. Notre Dame (Jan. 22) … Had a game-high three steals vs. Connecticut (Jan. 29) … Dished out four assists in 15 minutes of action vs. St. John's (Feb. 15) … Matched Dwight Buycks with team-high five assists vs. Seton Hall (Feb. 19) … Hit the second 3-pointer of his career in overtime win at Connecticut (Feb. 24) to give MU a 56-55 lead with three minutes remaining in regulation … Turned in the best performance of his career vs. Providence (Feb. 27), recording his first collegiate double-double to finish with 10 points, 10 assists and six rebounds … Scored 13 of his career-high 15 points in the second half of MU's come-from-behind win over West Virginia (Mar. 9) in the second round of the BIG EAST Championship, finishing 4-of-7 from the field and 7-of-9 from the free throw line in addition to a team-high five assists …Pitched in nine points, three assists and a steal in upset over Syracuse (Mar. 20) in NCAA Third Round … Scored 10 points and had a team-high five assists vs. North Carolina (Mar. 25) in NCAA Regional Semifinal.
Personal
Born May 7, 1990 in Toronto, Canada … son of Suzette Cadougan … majoring in Social Welfare and Justice.