MUScoop Wiki - By the fans, for the fans.
Kyle Green - Assistant Coach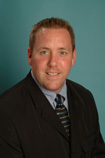 Kyle Green was an assistant Coach under Tom Crean in 2003. He is now at Lewis University.
The 35-year-old Green arrived at Lewis following one season as assistant coach at NCAA Division I Marquette University, where he helped the Golden Eagles post a 19-12 record and advance to the National Invitation Tournament quarterfinals. He went to Marquette in 2003 following two years as assistant coach at Division I University of Northern Iowa.
Green was head coach at NCAA Division II Western State (Colo.) College during the 2000-01 season. He was assistant coach at Division II Augustana (S.D.) College from 1997-2000, at Division II Southwest State (Minn.) University from 1995-97 and at Division III Hamline (Minn.) University, his alma mater, from 1993-95.
Following his 1992 Hamline graduation, the Minneapolis, Minn., native served one season as player/coach of the Frederica (Denmark) Basketball Club. He was named Denmark Serie Coach of the Year after guiding Frederica to a 30-3 record and the Denmark Serie title.
A three-year starter at Hamline, Green earned academic all-conference honors his junior and senior years and was team captain. He earned a Bachelor of Arts degree in social studies/psychology at Hamline and is pursuing a master's degree in athletic administration at the University of St. Thomas (Minn.).
"People are what make universities special, and there is no doubt that Lewis has an unbelievable track record of great administrators, coaches, staff and players," Green said.
"I'm truly looking forward to building upon the championship foundation laid by last year's team, and I couldn't be more excited about the team and coaching staff we've assembled at Lewis," Green continued. "I have no doubt we'll make up for what we may lack in experience with effort and enthusiasm.
"You cannot win in what is arguably the toughest NCAA Division II conference in the nation without a combination of talent, toughness, intelligence and experience," Green added. "I feel strongly that we have a great mixture of those qualities."
Green and wife Michele reside in Plainfield and are parents of a son, A.J. (6), and a daughter, Emerson (3).