MUScoop Wiki - By the fans, for the fans.
Lloyd Moore #35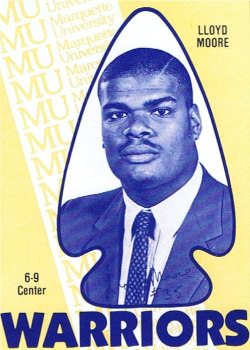 Position: Center
Height: 6'9"
Weight: 254 lbs.
Birthdate:
Hometown: Clairton, PA
High School: Clairton High School in Clairton, PA

High School Career
Moore was a Parade and Adidas All-American. Street and Smith magazine named him one of the "30 best high school stars." He accumulated the accolades during his prep career: All-State team (1981 and 1982); All-WPIAL (Western Pennsylvania Interscholastic Athletic League) (1981 and 1982); and one of the Pittsburgh Press's "Fantastic Five."
His high school averages were 30 ppg and 17 rpg. On December 22, 1981, Moore scored a career high 44 points against Bishop Boyle High School.
He was touted to have "unlimited potential as a shooting center" and his weight "with proper guidance…can be an asset."
Marquette Career