MUScoop Wiki - By the fans, for the fans.
Matt Mortensen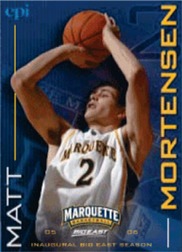 Shooting guard
HS: Provo (UT) Timpview

Ht: 6-foot-5

Wt: 190 lbs

Class: 2005 (High School)

Matt Mortensen was red-shirted during his first year at Marquette.
In May of 2006, he was dismissed from the team:
"Marquette Golden Eagles freshman forward Matt Mortensen will not have his scholarship renewed and has been dismissed from the team, athletic director Bill Cords announced Monday night.
According to a release provided by MU, Mortensen has rendered himself ineligible according to NCAA regulations."
The release went on to say the decision to dismiss Mortensen was not related to academics.