MUScoop Wiki - By the fans, for the fans.
Mike Bargen #21
Position: Guard/Forward
Height: 6'7"
Weight: 200
Born: December 20, 1976
Hometown: Lincoln, NE
High School: East H.S.

High School Career
Holds the East High career scoring record with 1,227 points … Averaged 26.5 points ans 10.7 rebounds a game as a senior … A member of the super state first team … Also chosen to the all-city and all-conference first teams … Coached by Paul Forch at East High … The MVP of the Phillips 66 Tournament in Bartlesville, Okla … Attended the 1994 Nike All-Star Camp … Chosen to the all-tournament teams at the Las Vegas International and Midwest Future Stars Showdown and Shootout in 1994 … Played on the Nebraska development all-star team for three seasons.
Marquette Career
1998-99
Mike was named team co-captain and led the team in rebounding (5.4 rpg).
1996-97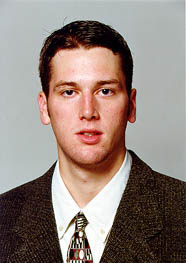 Has played in all 30 games and made two starts … Has hit a three-pointer in 16 games … Reached double figures for the first time in his career with 10 points against DePaul (Jan. 9) … Had a career-high eight rebounds at UAB (Feb. 17) … Had five points, two rebounds and two steals in C-USA Championship win over UNC Charlotte (March 8) … Had two points and one rebound at DePaul (Jan. 26) … Scored six points against Saint Louis (Jan. 18) … Pulled down two rebounds at Memphis (Jan. 12) … Set a career high with 10 points in win over DePaul (Jan. 9) … Registered three points at Iowa State (Jan. 7) … Had a strong outing off the bench with eight points and four rebounds versus Southern Miss (Jan. 4) … Came off the bench and tied his career high with six rebounds and added eight points against Wisconsin (Dec. 31) … Made his first collegiate start at Dayton (Dec. 27) and registered three points … Scored two points and grabbed five rebounds in win over La Salle (Dec. 22) … Had eight points against Appalachian State (Dec. 19) … Scored two points and had three steals against UW-Green Bay (Dec. 14) … Scored eight points and had five rebounds against Princeton (Dec. 7) … Scored seven points, pulled down five rebounds, and blocked two shots in that win over Prairie View A&M (Dec. 6) … Set a career high with six rebounds at Santa Clara (Nov. 29) … Scored five points, grabbed two rebounds, handed out three assists, and blocked two shots in win over UW-Milwaukee (Nov. 24).
1995-96
Played in 21 contests … Made two huge three pointers in win at Southern Miss (2/18) … Tied a career high with seven points and handed out four assists against Illinois-Chicago (1/15) … Played a season-high 23 minutes at Cincinnati (1/13) and responded with five points and four rebounds … Scored seven points and pulled down three rebounds versus Morgan State (1/2).
All-Time Rankings
All-Time Senior Season Rankings
Personal:
Youngest of Gary and Nancy Bargen's four children … His father is the assistant compliance director and former assistant men's basketball coach at Nebraska … Older brother, Jed, played college basketball at Nebraska and Washington University. Majored in physical therapy …
Professional Career
After college, Bargen played professionally for one season in Iceland in 2000-2001 Iceland stats. He averaged 22.2 points and 7.2 rebounds per game in the Nordic League while helping his team to a 5th place finish.
After his playing career attended Creighton University and completed his MBA degree. While at Creighton, Bargen spent three seasons as the graduate manager for the Blue Jays men's basketball team as a member on Dana Altman's staff.
After 3 seasons as Butler Community College's assistant coach, 2004-06, Mike was hired as the Head Coach for the Butler Grizzlies.