MUScoop Wiki - By the fans, for the fans.
Nick Williams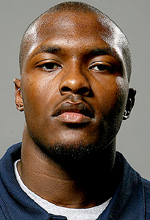 Class: Freshman

Nickname(s):

Position: SG

Height: 6'5"

Weight: 215 lbs.

Birthdate:

Hometown: Mobile, AL

High School: Le Flore HS in Mobile, AL

AAU Team: Alabama Challenge
Marquette Career
Was the first member of Marquette's 2008-09 recruiting class to verbally commit on August 2, 2006; committing before beginning his Junior year of high school. Selected Marquette despite receiving offers from Alabama, Arkansas, Auburn, Cincinnati, Florida State, Mississippi, Mississippi State and Miami, with Florida, Kansas and Connecticut reportedly showing interest as well.
High School Career
-Led team to 32-3 record his junior year, helping Le Flore capture the Alabama 6A Title. Garnerned 2007 ASWA Boys Class 6A First Team All-State Honors.
-Led team to 29-6 record his sophomore year, averaging 16 points and 10 rebounds.
Breakdown from Scout.com
Strengths - 3 Point Range / Size for Position
Weaknesses - Passing and shooting off the dribble
Description: Big wing who is steadily becoming a better shooter who lets it rip with confidence. Capable of going on big scoring runs; very confident. Could play two wing positions and projects to be high-major.

Journal Sentinel Article Announcing Commitment