MUScoop Wiki - By the fans, for the fans.
Pat O'Keefe #11/33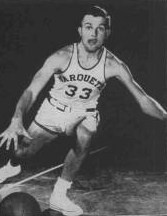 Position: Guard
Height: 5'10"
Weight: 168 lbs.
Birthdate:
Hometown: Menasha, WI
High School: Menasha H.S.

High School Career
Marquette Career
O'Keefe averaged 9.2 points per game during the 1953-54 season.
Idaho Statesman Article 3/19/2009
While screaming at his television in sunny Florida, Patrick O'Keefe will be dreaming of Taco Bell Arena on Friday.
O'Keefe, a 75-year-old Meridian insurance salesman, had tickets to the NCAA Tournament basketball games in Boise. But he gave them to his son, who in turn sold them, long before Marquette was assigned to play here.
"It makes me sick, just makes me sick," said O'Keefe, who winters in Florida. "I just can't believe it."
Long before the NCAA Tournament became the March Madness phenomenon it is today, O'Keefe had his one shining moment.
In 1955, the 5-foot-10 O'Keefe - a quick triggered and sweet-shooting guard from long distance - was a key part of Marquette's run to the Elite Eight.
Marquette opened the 24-team tournament with a victory against Miami (Ohio), and then defeated No. 2-ranked Kentucky in Lexington to reach the regional final. There, O'Keefe and his Warrior teammates lost to fifth-ranked Iowa, ending their tournament hopes.
"I was a streak shooter. If I had a zone, that basket was real big," O'Keefe said. "I wasn't bashful."
O'Keefe moved to the Treasure Valley in 1964 to work for Boise Cascade. He began working for Northwestern Mutual two years later and stayed there for more than 40 years. His three sons graduated from Capital High. He became an independent agent a few years ago, and takes off for Florida every year after his beloved Boise State football team ends its season.
This week, however, he wishes he were back in Boise. Marquette, seeded sixth, will play No. 11 Utah State in a first-round West Regional game Friday at Taco Bell Arena.
O'Keefe has seen a number of Marquette games this season, and breaks down strengths and weaknesses with ease. He has high hopes for these Golden Eagles, but is worried about consistency.
"It depends on which team is going to show up," O'Keefe said.