MUScoop Wiki - By the fans, for the fans.
Paul Newman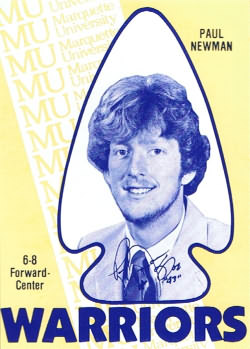 Position: Forward-Center
Height: 6'8"
Weight: 215 lbs.
Birthdate:
Hometown: Wheelersburg, OH
High School: Wheelersburg High School in Wheelersburg, OH

High School Career
Newman averaged 18.3 ppg and 13.6 rpg. As a senior, he shot 53% from the field. He also led his team in free throw percentage his junior and senior years, 78% and 71% respectively. An All-District and All-State (Honorable Mention) selection, Newman participated in the Ohio "North-South" All-Star game; he scored 11 points and grabbed 7 rebounds.
Marquette Career