MUScoop Wiki - By the fans, for the fans.
Pitt rides Gray's 22 points past Marquette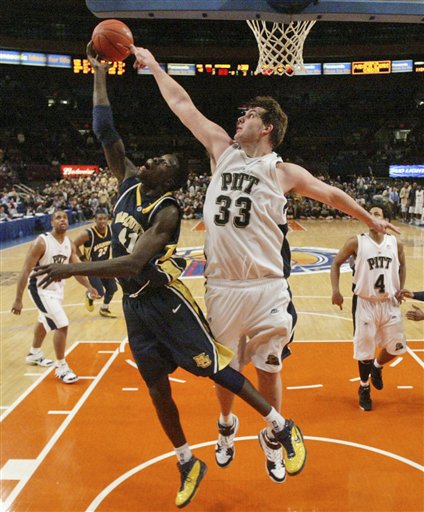 NEW YORK – Pittsburgh wasn't about to forget a loss to Marquette that cost the Panthers a share of the Big East title.
Aaron Gray scored 22 points and grabbed 10 rebounds to help Pittsburgh (No. 11 ESPN/USA Today; No. 13 AP) beat Marquette (No. 19 ESPN/USA Today; No. 18 AP) 89-79 in the quarterfinals of the Big East tournament Thursday night.
The Panthers (26-6) lost both regular-season meetings to Marquette, including a 75-71 defeat on Saturday that spoiled the Panthers' chances of sharing the conference title with Georgetown.
"It motivated us," said Mike Cook, who had 16 points. "In the back of our minds we knew we would have a chance to play them in the first round of the tournament. We just wanted to come out and prove that we still are the best team in the Big East."
Pitt is the No. 3 seed in the tournament and has played in five of the last six tournament title games.
The Panthers will face second-seeded Louisville in the semifinals Friday night. Terrence Williams scored 21 points and Earl Clark added 17 as the No. 12 Cardinals beat West Virginia 82-71 in double overtime.
"We haven't given much thought to them as of right now, but these guys will be well-informed and well prepared for Louisville by tomorrow night," coach Jamie Dixon said.
Dan Fitzgerald matched his career high with 20 points to lead Marquette (24-9). He had set that high in the Golden Eagles' 76-67 win over St. John's in the opening round Wednesday night.
"This has been the most unbelievable venue to play in," Marquette coach Tom Crean said. "I don't think there is any question that our short bench caught up with us a little bit."
The Golden Eagles were still without Jerel McNeal, a second-team all-Big East selection who averages 14.7 points, 4.8 rebounds, 3.8 assists and 2.6 steals. The sophomore guard injured a thumb in practice last Friday and didn't play in the finale against Pitt or Wednesday's win against St. John's.
"We anticipate having him back and no longer being an assistant on the bench," Crean said of the conference's defensive player of the year.
Wesley Matthews added 19 points and Dominic James had 16 for the Golden Eagles.
The Panthers, who had five players score in double figures, led by one early in the second half before using a 7-0 run capped by Antonio Graves' 3-pointer to build a 49-41 advantage.
The Golden Eagles could only get as close as five before Pitt slowly extended the lead to 69-57 with 8:49 left on Gray's jump hook.
"I think I had some big baskets tonight, sometimes to stretch the lead out a little farther, sometimes to stop a run that Marquette had," Gray said.
Marquette never threatened after that, only getting within eight points.
Pittsburgh continued to struggle to slow Marquette defensively. The Golden Eagles are the only Big East team to score more than 70 points against the Panthers this season, doing so in all three games.
Trailing 29-27 with 4 minutes left in the first half, Pitt used an 11-3 spurt to take a 38-32 lead with 51 seconds left. James scored the last five points of the half – including his first 3-pointer of the tournament – to get the Golden Eagles within 40-37 at the break.
James had missed his first 12 3-pointers in the tournament, going 0-for-9 in the opening round and then misconnecting on his first three Thursday night.
Box Score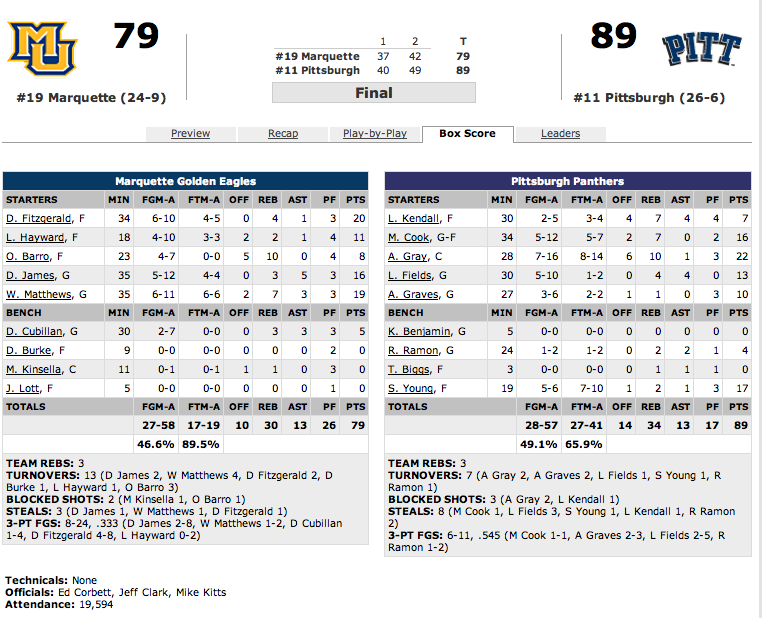 Official Basketball Box Score


Official Basketball Box Score
18/19 Marquette vs 13/11 Pittsburgh
03/08/07 9 p.m. at New York, N.Y. (Madison Square Garden)

--------------------------------------------------------------------------------
VISITORS: 18/19 Marquette 24-9
                          TOT-FG  3-PT         REBOUNDS
## Player Name            FG-FGA FG-FGA FT-FTA OF DE TOT PF  TP  A TO BLK S MIN
05 Dan Fitzgerald...... f  6-10   4-8    4-5    0  4  4   3  20  1  2  0  1  34
32 Lazar Hayward....... f  4-10   0-2    3-3    2  0  2   4  11  1  1  0  0  18
41 Ousmane Barro....... c  4-7    0-0    0-0    5  5 10   4   8  0  3  1  0  23
01 Dominic James....... g  5-12   2-8    4-4    0  3  3   3  16  5  2  0  1  35
23 Wesley Matthews..... g  6-11   1-2    6-6    2  5  7   3  19  3  4  0  1  35
10 David Cubillan......    2-7    1-4    0-0    0  3  3   3   5  3  0  0  0  30
12 Dwight Burke........    0-0    0-0    0-0    0  0  0   2   0  0  1  0  0   9
40 Mike Kinsella.......    0-1    0-0    0-1    1  0  1   3   0  0  0  1  0  11
51 Lott, Jamil.........    0-0    0-0    0-0    0  0  0   1   0  0  0  0  0   5
   TEAM................                         2  1  3             1
   Totals..............   27-58   8-24  17-19  12 21 33  26  79 13 14  2  3 200

TOTAL FG% 1st Half: 15-32 46.9%   2nd Half: 12-26 46.2%   Game: 46.6%  DEADB
3-Pt. FG% 1st Half:  5-13 38.5%   2nd Half:  3-11 27.3%   Game: 33.3%   REBS
F Throw % 1st Half:  2-3  66.7%   2nd Half: 15-16 93.8%   Game: 89.5%    0


--------------------------------------------------------------------------------
HOME TEAM: 13/11 Pittsburgh 26-6
                          TOT-FG  3-PT         REBOUNDS
## Player Name            FG-FGA FG-FGA FT-FTA OF DE TOT PF  TP  A TO BLK S MIN
14 KENDALL, Levon...... f  2-5    0-0    3-4    4  3  7   4   7  4  0  1  1  30
31 COOK, Mike.......... f  5-12   1-1    5-7    2  5  7   2  16  0  0  0  1  34
33 GRAY, Aaron......... c  7-16   0-0    8-14   6  4 10   3  22  1  2  2  0  28
02 FIELDS, Levance..... g  5-10   2-5    1-2    0  4  4   0  13  4  1  0  3  30
22 GRAVES, Antonio..... g  3-6    2-3    2-2    1  0  1   3  10  0  2  0  0  27
01 BENJAMIN, Keith.....    0-0    0-0    0-0    0  0  0   0   0  0  0  0  0   5
04 RAMON, Ronald.......    1-2    1-2    1-2    0  2  2   1   4  2  1  0  2  24
05 BIGGS, Tyrell.......    0-0    0-0    0-0    0  1  1   1   0  1  0  0  0   3
23 YOUNG, Sam..........    5-6    0-0    7-10   1  1  2   3  17  1  1  0  1  19
   TEAM................                         2  1  3
   Totals..............   28-57   6-11  27-41  16 21 37  17  89 13  7  3  8 200

TOTAL FG% 1st Half: 14-28 50.0%   2nd Half: 14-29 48.3%   Game: 49.1%  DEADB
3-Pt. FG% 1st Half:  3-7  42.9%   2nd Half:  3-4  75.0%   Game: 54.5%   REBS
F Throw % 1st Half:  9-16 56.3%   2nd Half: 18-25 72.0%   Game: 65.9%    6


--------------------------------------------------------------------------------
Officials: Mike Kitts, Ed Corbett, Jeff Clark
Technical fouls: 18/19 Marquette-None. 13/11 Pittsburgh-None.
Attendance: 19594
Score by Periods                1st  2nd   Total
18/19 Marquette...............   37   42  -   79
13/11 Pittsburgh..............   40   49  -   89