MUScoop Wiki - By the fans, for the fans.
Raymond Eckstein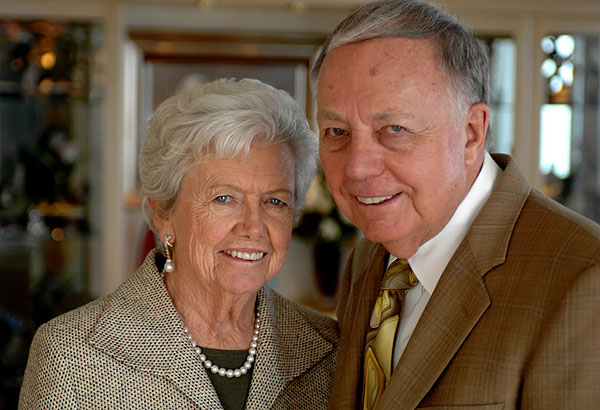 Biography
Hometown: Cassville, Wisconsin
Current Residence: Boca Raton, Fla
Spouse: Kathryn
Other Family: 8 Children, 28 grandchildren and 7 great grandchildren
Degrees: Received a law degree from Marquette in 1949

Basketball Career
Post Basketball Career
In 1958, Ray Eckstein, a Cassville native, founded Wisconsin Barge Lines, a switchboat operation that he soon transformed into a bulk commodity carrier. Throughout the 60s, Wisconsin Barge flourished under the helm of Ray Eckstein, whose fleet of tugboats and hopper barges couriered a steady flow of commerce from port to port. When he later sold the company, Ray was asked to stay behind the wheel of the operation, which he did, as President until the late 70s.
In 1978, Ray christened his new transportation company Marquette, which he named for Father Jacques Marquette, a French Jesuit priest who lived among the Great Lakes Indians from 1666 to his death in 1675. Father Marquette is credited with helping Louis Jolliet map the Mississippi River.
Although Marquette Transportation started small, the company thrived as industry demand for export grain hit record levels. Ray Eckstein invested in more vessels, building his fleet to 12 towboats and 350 barges. But the early 80s pronounced a devastating downturn in the nation's economy. Prime interest rates skyrocketed to 23% and President Jimmy Carter issued a grain embargo against America's largest consumer of grain—Russia. Suddenly, the river business was virtually out of business.
Marquette struggled in the midst of this economic storm. To stay afloat, Ray tightened his operation to two towboats and 70 barges and restructured the company. Marquette was now poised to take a new direction in its industry.
During the 90s, Marquette welcomed the addition of Ray's son, John, to the company. As president, John Eckstein and his father made dramatic changes that strategically positioned Marquette from a barge operator to a line-haul towboat company that leased its barges to its towing customers. This move, combined with a major investment in the Marquette fleet and a focus on high-quality service, proved to be the company's most successful venture to date.
Today, John carries forward the Marquette legacy of entrepreneurship and forward-thinking solutions to meet the demands of a new business world. With a world-class management team behind it, Marquette's high-quality initiatives and innovative services have turned a once-mom and pop operation into a vibrant transportation company, serving some of the world's largest suppliers of food and commodities. With points of presence throughout America's inland waterway network, Marquette Transportation operates 38 towboats and by year-end will control more than 600 dry cargo barges, which it will lease to its towing customers.
As a family-owned business, the 21st Century Marquette is still close-knit and personal, but the ebb and flow of global demand now play a critical role in the company's day-to-day operations. Technology has transformed the industry as a whole, and Marquette embraces the advancements this new change brings to the safety, service, and speed of its business. Marquette Transportation has always been a story of change in a time of change. As we enter the next chapter, we welcome the challenges and opportunities life on the river promises.
In 2007 Eckstein made a monumental donation to Marquette. He and his wife, also a Marquette graduate donated 51 million dollars to the Marquette law school, the largest donation to a university in Wisconsin history. Marquette Transportation Company