MUScoop Wiki - By the fans, for the fans.
Syracuse 70, (15) Marquette 58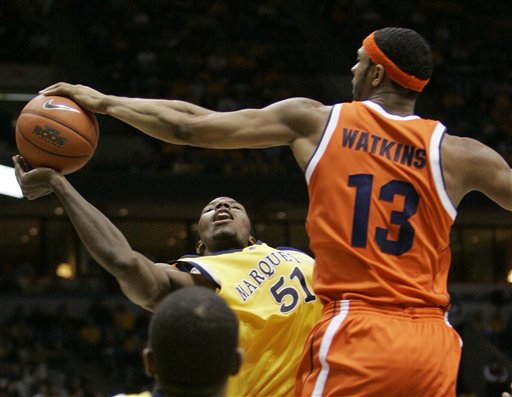 MILWAUKEE (AP)
Somewhere, Jim Boeheim figured, Al McGuire must be cringing.
After his team upset No. 15 Marquette 70-58 on Sunday night, the Syracuse coach fondly recalled a whirlwind tour of Milwaukee that McGuire took him on as a visiting assistant coach in the 1970s. "I think he would have liked the defense tonight," Boeheim said. "I don't know if he would have liked anything else." The Orange (12-4, 1-1 Big East) won their first game in four tries against ranked teams this season despite hitting only two field goals in the final 9 minutes of the game. If it was possible, Marquette (13-4, 0-2) looked even sloppier.
Syracuse managed to keep pace with the Golden Eagles by going to the free-throw line and holding Marquette's offense in check. The Orange held Golden Eagles guard Dominic James to a season-low six points. Marquette coach Tom Crean said he wanted to see his players get "a little hungrier," calling on them to put in extra time improving their shooting outside of the team's practices. "We've got to have some individual soul-searching on how much more time we're going to spend outside of practice, things of that nature," Crean said.
The Golden Eagles were 4-for-21 from 3-point range and are 8-for-44 from 3-point range in their last two games. The common denominator: zone defenses by Syracuse and Providence. But a zone defense doesn't explain the Golden Eagles' 6-for-15 performance from the free-throw line. "There's no excuse for our free throw shooting," Crean said. "There really isn't." Marquette has lost two straight, the first time in eight seasons under Crean that they have opened conference play with two losses.
Crean said the Golden Eagles might have been thrown off by injuries to Jerel McNeal and Wesley Matthews, who bumped heads during practice Monday. Matthews played in the loss to Providence on Thursday but McNeal sat out. McNeal said he felt "good" in his return on Sunday but didn't feel so good about the team's shooting.
"It's just a matter of time before the shots start falling," McNeal said. Eric Devendorf scored a season-high 20 points to lead the Orange. Devendorf is Syracuse's second-leading scorer, but hasn't started the past seven games. "He has been playing well," Boeheim said. "People talk about starting. Starting doesn't matter. It's how many minutes you play. I thought he did the things he needed to do." Syracuse went into a prolonged shooting slump after an acrobatic driving layup by Devendorf gave the Orange a 48-46 lead with 9:05 remaining. The Golden Eagles tied the game 55-55 on a 3-pointer by David Cubillan with 4:03 remaining.
But Demetris Nichols' 3-pointer broke Syracuse's drought with 2:31 left, putting the Orange up 59-55. Nichols had 17 points, rebounding from a subpar performance against Pittsburgh. "He made the hardest shot he had to take the whole night, and that was the ballgame, that shot," Boeheim said. "We were tough down the stretch defensively."
Marquette finished with 23 turnovers to equal its season high. Syracuse finished with 20. James, the Golden Eagles' leading scorer, was 3-for-12 from the field and 0-for-7 from 3-point range. "You have got to keep him outside," Boeheim said. "You can't let him get to the lane. I thought for the most part we did that. We were good defensively." Matthews said Marquette needs to move the ball around to give James more room. "It's tough," said Matthews, who added 14 points. "He's a marquee player, and a lot of teams are scouting him."
The Orange had lost their first three games against ranked opponents this season – to No. 10 Pittsburgh at home Thursday, and Wichita State and Oklahoma State in December. But Sunday was only the second true road game of the season for the Orange. "Everybody talked about us playing home games, and we did play a lot of home games," Boeheim said. "But if you look at them, we had a lot of trouble. We have had nothing but tough games."
Center Darryl Watkins scored 14 and added a team-high 10 rebounds. Senior forward Terrence Roberts scored eight in his second game back after missing two games with a sprained left knee. It was the teams' first meeting since 1985, a 71-53 home victory for Syracuse.
The Golden Eagles joined the Big East last season but did not face the Orange in conference play.
Box Score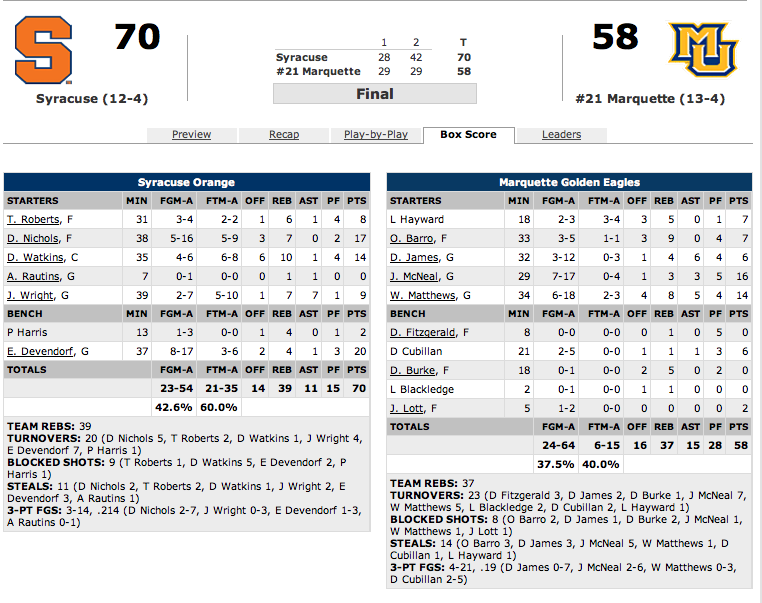 Official Basketball Box Score


Official Basketball Box Score
Syracuse vs 15/21 Marquette
01/07/07 7 p.m. at Miwaukee, Wis. (Bradley Center)

--------------------------------------------------------------------------------
VISITORS: Syracuse 12-4,1-1
                          TOT-FG  3-PT         REBOUNDS
## Player Name            FG-FGA FG-FGA FT-FTA OF DE TOT PF  TP  A TO BLK S MIN
33 ROBERTS, Terrence... f  3-4    0-0    2-2    1  5  6   4   8  1  2  1  2  31
34 NICHOLS, Demetris... f  5-16   2-7    5-9    3  4  7   2  17  0  5  0  2  38
13 WATKINS, Darryl..... c  4-6    0-0    6-8    6  4 10   4  14  1  1  5  1  35
01 RAUTINS, Andy....... g  0-1    0-1    0-0    0  1  1   0   0  1  0  0  1   7
30 WRIGHT, Josh........ g  2-7    0-3    5-10   1  6  7   1   9  7  4  0  2  39
11 HARRIS, Paul........    1-3    0-0    0-0    1  3  4   1   2  0  1  1  0  13
23 DEVENDORF, Eric.....    8-17   1-3    3-6    2  2  4   3  20  1  7  2  3  37
   TEAM................                         4  1  5
   Totals..............   23-54   3-14  21-35  18 26 44  15  70 11 20  9 11 200

TOTAL FG% 1st Half: 13-29 44.8%   2nd Half: 10-25 40.0%   Game: 42.6%  DEADB
3-Pt. FG% 1st Half:  2-9  22.2%   2nd Half:  1-5  20.0%   Game: 21.4%   REBS
F Throw % 1st Half:  0-6   0.0%   2nd Half: 21-29 72.4%   Game: 60.0%   6,1


--------------------------------------------------------------------------------
HOME TEAM: 15/21 Marquette 13-4,0-2
                          TOT-FG  3-PT         REBOUNDS
## Player Name            FG-FGA FG-FGA FT-FTA OF DE TOT PF  TP  A TO BLK S MIN
32 Hayward, Lazar...... f  2-3    0-0    3-4    3  2  5   1   7  0  1  0  1  18
41 Barro, Ousmane...... f  3-5    0-0    1-1    3  6  9   4   7  0  0  2  3  33
01 James, Dominic...... g  3-12   0-7    0-3    1  3  4   4   6  6  2  1  3  32
22 McNeal, Jerel....... g  7-17   2-6    0-4    1  2  3   5  16  3  7  1  5  29
23 Matthews, Wesley.... g  6-18   0-3    2-3    4  4  8   4  14  5  5  1  1  34
05 Fitzgerald, Dan.....    0-0    0-0    0-0    0  1  1   5   0  0  3  0  0   8
10 Cubillan, David.....    2-5    2-5    0-0    1  0  1   3   6  1  2  0  1  21
12 Burke, Dwight.......    0-1    0-0    0-0    2  3  5   2   0  0  1  2  0  18
21 Blackledge, Lawrence    0-1    0-0    0-0    1  0  1   0   0  0  2  0  0   2
51 Lott, Jamil.........    1-2    0-0    0-0    0  0  0   0   2  0  0  1  0   5
   TEAM................                         2     2
   Totals..............   24-64   4-21   6-15  18 21 39  28  58 15 23  8 14 200

TOTAL FG% 1st Half: 12-31 38.7%   2nd Half: 12-33 36.4%   Game: 37.5%  DEADB
3-Pt. FG% 1st Half:  2-9  22.2%   2nd Half:  2-12 16.7%   Game: 19.0%   REBS
F Throw % 1st Half:  3-5  60.0%   2nd Half:  3-10 30.0%   Game: 40.0%    4


--------------------------------------------------------------------------------
Officials: Jim Burr, Tom Lopes, Michael Stephens
Technical fouls: Syracuse-None. 15/21 Marquette-None.
Attendance: 18458
Score by Periods                1st  2nd   Total
Syracuse......................   28   42  -   70
15/21 Marquette...............   29   29  -   58
ID-485069

Points in the paint-SYRACUSE 30,MARQ 36. Points off turnovers-SYRACUSE 27,MARQ 21.
2nd chance points-SYRACUSE 16,MARQ 18. Fast break points-SYRACUSE 10,MARQ 14.
Bench points-SYRACUSE 22,MARQ 8. Score tied-6 times. Lead changed-12 times.
Last FG-SYRACUSE 2nd-01:44, MARQ 2nd-00:29.
Largest lead-SYRACUSE by 12 2nd-00:19, MARQ by 3 1st-11:23.

Play-by-Play


Play-by-Play
Syracuse vs 15/21 Marquette
01/07/07 7 p.m. at Miwaukee, Wis. (Bradley Center)

1st PERIOD Play-by-Play (Page 1)
HOME TEAM: 15/21 Marquette                      TIME   SCORE  MAR  VISITORS: Syracuse
------------------------------------------------------------------------------------------------
TURNOVR by McNeal, Jerel                        19:24              STEAL by RAUTINS, Andy
                                                18:54   0-2   V 2  GOOD! LAYUP by ROBERTS, Terrence [PNT]
MISSED DUNK by Matthews, Wesley                 18:47              REBOUND (DEF) by RAUTINS, Andy
                                                18:36              MISSED JUMPER by ROBERTS, Terrence
                                                18:36              REBOUND (OFF) by WATKINS, Darryl
                                                18:34   0-4   V 4  GOOD! TIP-IN by WATKINS, Darryl [PNT]
MISSED 3 PTR by McNeal, Jerel                   18:20              REBOUND (DEF) by WRIGHT, Josh
                                                18:15              TURNOVR by WRIGHT, Josh
STEAL by McNeal, Jerel                          18:13
MISSED LAYUP by Barro, Ousmane                  18:09
REBOUND (OFF) by Hayward, Lazar                 18:09
GOOD! TIP-IN by Hayward, Lazar [FB/PNT]         18:06   2-4   V 2
                                                17:54              TURNOVR by NICHOLS, Demetris
STEAL by Matthews, Wesley                       17:53
MISSED FT SHOT by Hayward, Lazar                17:48              FOUL by ROBERTS, Terrence (P1T1)
REBOUND (OFF) by (DEADBALL)                     17:48
GOOD! FT SHOT by Hayward, Lazar                 17:48   3-4   V 1
                                                17:37   3-6   V 3  GOOD! LAYUP by WRIGHT, Josh [FB/PNT]
MISSED 3 PTR by Matthews, Wesley                17:25              REBOUND (DEF) by ROBERTS, Terrence
REBOUND (DEF) by Barro, Ousmane                 17:04              MISSED 3 PTR by RAUTINS, Andy
GOOD! JUMPER by McNeal, Jerel                   16:54   5-6   V 1
ASSIST by James, Dominic                        16:54
                                                16:37              TURNOVR by NICHOLS, Demetris
                                                16:37              SUB IN : DEVENDORF, Eric
                                                16:37              SUB IN : HARRIS, Paul
                                                16:37              SUB OUT: NICHOLS, Demetris
                                                16:37              SUB OUT: RAUTINS, Andy
TURNOVR by McNeal, Jerel                        16:19
FOUL by McNeal, Jerel (P1T1)                    16:19
                                                16:02   5-8   V 3  GOOD! JUMPER by WATKINS, Darryl
GOOD! LAYUP by Matthews, Wesley [PNT]           15:36   7-8   V 1
ASSIST by McNeal, Jerel                         15:36
FOUL by Hayward, Lazar (P1T2)                   15:20
                                                15:20              TIMEOUT MEDIA
                                                15:20              MISSED FT SHOT by DEVENDORF, Eric
                                                15:20              REBOUND (OFF) by (DEADBALL)
REBOUND (DEF) by Matthews, Wesley               15:20              MISSED FT SHOT by DEVENDORF, Eric
TURNOVR by James, Dominic                       15:08
                                                15:06              STEAL by DEVENDORF, Eric
BLOCK by Barro, Ousmane                         15:00              MISSED JUMPER by HARRIS, Paul
                                                14:54              REBOUND (OFF) by WRIGHT, Josh
                                                14:50              MISSED 3 PTR by WRIGHT, Josh
                                                14:50              REBOUND (OFF) by ROBERTS, Terrence
                                                14:48   7-10  V 3  GOOD! TIP-IN by ROBERTS, Terrence [PNT]
MISSED 3 PTR by Matthews, Wesley                14:28
REBOUND (OFF) by Hayward, Lazar                 14:28
GOOD! FT SHOT by Hayward, Lazar                 14:17   8-10  V 2  FOUL by ROBERTS, Terrence (P2T2)
GOOD! FT SHOT by Hayward, Lazar                 14:17   9-10  V 1
SUB IN : Burke, Dwight                          14:17              SUB IN : NICHOLS, Demetris
SUB IN : Cubillan, David                        14:17              SUB OUT: ROBERTS, Terrence
SUB OUT: McNeal, Jerel                          14:17
SUB OUT: Hayward, Lazar                         14:17
STEAL by Barro, Ousmane                         14:02              TURNOVR by DEVENDORF, Eric
GOOD! DUNK by Matthews, Wesley [PNT]            13:45  11-10  H 1
ASSIST by James, Dominic                        13:45
                                                13:25              MISSED JUMPER by DEVENDORF, Eric
                                                13:25              REBOUND (OFF) by NICHOLS, Demetris
                                                13:22              MISSED TIP-IN by NICHOLS, Demetris
                                                13:22              REBOUND (OFF) by NICHOLS, Demetris
                                                13:21  11-12  V 1  GOOD! TIP-IN by NICHOLS, Demetris [PNT]
GOOD! LAYUP by Barro, Ousmane [PNT]             13:03  13-12  H 1
ASSIST by Matthews, Wesley                      13:03
REBOUND (DEF) by Burke, Dwight                  12:42              MISSED JUMPER by NICHOLS, Demetris
TURNOVR by James, Dominic                       12:34
SUB IN : McNeal, Jerel                          12:34              SUB IN : RAUTINS, Andy
SUB OUT: James, Dominic                         12:34              SUB OUT: HARRIS, Paul
STEAL by McNeal, Jerel                          12:21              TURNOVR by DEVENDORF, Eric
                                                12:21              FOUL by DEVENDORF, Eric (P1T3)
TURNOVR by Burke, Dwight                        12:14
                                                11:59  13-14  V 1  GOOD! JUMPER by DEVENDORF, Eric [PNT]
                                                11:59              ASSIST by RAUTINS, Andy
TURNOVR by Cubillan, David                      11:45
                                                11:44              STEAL by NICHOLS, Demetris
                                                11:42              TURNOVR by NICHOLS, Demetris
STEAL by McNeal, Jerel                          11:41
GOOD! JUMPER by McNeal, Jerel [FB]              11:37  15-14  H 1
                                                11:29              TURNOVR by DEVENDORF, Eric
STEAL by McNeal, Jerel                          11:28
GOOD! LAYUP by McNeal, Jerel [FB/PNT]           11:23  17-14  H 3
                                                11:06              TURNOVR by WRIGHT, Josh
                                                11:06              FOUL by WRIGHT, Josh (P1T4)
TIMEOUT MEDIA                                   11:06
SUB IN : Fitzgerald, Dan                        11:06
SUB OUT: Barro, Ousmane                         11:06
MISSED JUMPER by Matthews, Wesley               10:48              BLOCK by WATKINS, Darryl
REBOUND (OFF) by Matthews, Wesley               10:48
                                                10:48              SUB IN : HARRIS, Paul
                                                10:48              SUB IN : ROBERTS, Terrence
                                                10:48              SUB OUT: WATKINS, Darryl
                                                10:48              SUB OUT: RAUTINS, Andy
MISSED JUMPER by McNeal, Jerel                  10:47              BLOCK by ROBERTS, Terrence
                                                10:44              REBOUND (DEF) by NICHOLS, Demetris
BLOCK by Burke, Dwight                          10:36              MISSED JUMPER by HARRIS, Paul
REBOUND (DEF) by Matthews, Wesley               10:34
                                                10:26              FOUL by DEVENDORF, Eric (P2T5)
SUB IN : James, Dominic                         10:26
SUB OUT: Matthews, Wesley                       10:26
MISSED JUMPER by McNeal, Jerel                  10:05
REBOUND (OFF) by Burke, Dwight                  10:05
MISSED TIP-IN by Burke, Dwight                  10:04              REBOUND (DEF) by HARRIS, Paul
FOUL by McNeal, Jerel (P2T3)                    10:02
SUB IN : Blackledge, Lawrence                   10:02
SUB IN : Barro, Ousmane                         10:02
SUB OUT: Burke, Dwight                          10:02
SUB OUT: McNeal, Jerel                          10:02
FOUL by Fitzgerald, Dan (P1T4)                  09:44
BLOCK by James, Dominic                         09:43              MISSED JUMPER by DEVENDORF, Eric
REBOUND (DEF) by James, Dominic                 09:41
TURNOVR by Blackledge, Lawrence                 09:12
FOUL by James, Dominic (P1T5)                   08:57
SUB IN : Matthews, Wesley                       08:57
SUB OUT: Cubillan, David                        08:57
FOUL by Barro, Ousmane (P1T6)                   08:52
                                                08:46  17-17  T 1  GOOD! 3 PTR by NICHOLS, Demetris
                                                08:46              ASSIST by WRIGHT, Josh
TURNOVR by Fitzgerald, Dan                      08:30
                                                08:23              FOUL by NICHOLS, Demetris (P1T6)
                                                08:23              TURNOVR by NICHOLS, Demetris
MISSED 3 PTR by James, Dominic                  08:09              REBOUND (DEF) by WRIGHT, Josh
                                                08:03  17-19  V 2  GOOD! JUMPER by DEVENDORF, Eric [FB]
                                                08:03              ASSIST by WRIGHT, Josh
TIMEOUT MEDIA                                   07:57
TURNOVR by Fitzgerald, Dan                      07:44
FOUL by Fitzgerald, Dan (P2T7)                  07:44
SUB IN : McNeal, Jerel                          07:44
SUB IN : Hayward, Lazar                         07:44
SUB OUT: Blackledge, Lawrence                   07:44
SUB OUT: Fitzgerald, Dan                        07:44
                                                07:30  17-22  V 5  GOOD! 3 PTR by DEVENDORF, Eric
                                                07:30              ASSIST by WRIGHT, Josh
MISSED JUMPER by James, Dominic                 06:57              REBOUND (DEF) by WRIGHT, Josh
                                                06:51  17-24  V 7  GOOD! LAYUP by DEVENDORF, Eric [FB/PNT]
                                                06:51              ASSIST by WRIGHT, Josh
TIMEOUT 30sec                                   06:49
TURNOVR by McNeal, Jerel                        06:24
                                                06:12              TURNOVR by WRIGHT, Josh
TURNOVR by Matthews, Wesley                     05:52
                                                05:51              STEAL by ROBERTS, Terrence
REBOUND (DEF) by Hayward, Lazar                 05:46              MISSED 3 PTR by NICHOLS, Demetris
GOOD! JUMPER by McNeal, Jerel [FB/PNT]          05:41  19-24  V 5
MISSED FT SHOT by McNeal, Jerel                 05:41              FOUL by ROBERTS, Terrence (P3T7)
                                                05:41              REBOUND (DEF) by NICHOLS, Demetris
                                                05:41              SUB IN : WATKINS, Darryl
                                                05:41              SUB OUT: ROBERTS, Terrence
                                                05:28              MISSED 3 PTR by DEVENDORF, Eric
                                                05:28              REBOUND (OFF) by WATKINS, Darryl
                                                05:20  19-26  V 7  GOOD! JUMPER by HARRIS, Paul
                                                05:20              ASSIST by WATKINS, Darryl
MISSED 3 PTR by McNeal, Jerel                   05:05
REBOUND (OFF) by Barro, Ousmane                 05:05
GOOD! 3 PTR by McNeal, Jerel                    04:49  22-26  V 4
ASSIST by James, Dominic                        04:49
                                                04:29              TURNOVR by HARRIS, Paul
SUB IN : Lott, Jamil                            04:29
SUB OUT: Barro, Ousmane                         04:29
GOOD! LAYUP by Hayward, Lazar [PNT]             04:14  24-26  V 2
ASSIST by McNeal, Jerel                         04:14
                                                03:55  24-28  V 4  GOOD! JUMPER by NICHOLS, Demetris
MISSED JUMPER by Matthews, Wesley               03:43              REBOUND (DEF) by HARRIS, Paul
                                                03:31              MISSED 3 PTR by WRIGHT, Josh
                                                03:31              REBOUND (OFF) by HARRIS, Paul
                                                03:26              TIMEOUT MEDIA
SUB IN : Burke, Dwight                          03:26              SUB IN : RAUTINS, Andy
SUB OUT: Hayward, Lazar                         03:26              SUB OUT: HARRIS, Paul
REBOUND (DEF) by Burke, Dwight                  03:06              MISSED 3 PTR by NICHOLS, Demetris
MISSED JUMPER by McNeal, Jerel                  02:58              REBOUND (DEF) by DEVENDORF, Eric
FOUL by Matthews, Wesley (P1T8)                 02:53              MISSED FT SHOT by WRIGHT, Josh
                                                02:53              REBOUND (OFF) by (DEADBALL)
REBOUND (DEF) by Burke, Dwight                  02:53              MISSED FT SHOT by WRIGHT, Josh
MISSED JUMPER by Lott, Jamil                    02:27              BLOCK by WATKINS, Darryl
                                                02:24              REBOUND (DEF) by WRIGHT, Josh
BLOCK by Matthews, Wesley                       02:12              MISSED JUMPER by DEVENDORF, Eric
                                                02:12              REBOUND (OFF) by (TEAM)
REBOUND (DEF) by James, Dominic                 02:11              MISSED 3 PTR by NICHOLS, Demetris
MISSED 3 PTR by James, Dominic                  02:04
REBOUND (OFF) by Barro, Ousmane                 02:04
SUB IN : Cubillan, David                        01:59
SUB IN : Barro, Ousmane                         01:59
SUB OUT: McNeal, Jerel                          01:59
SUB OUT: Lott, Jamil                            01:59
MISSED JUMPER by Matthews, Wesley               01:33
REBOUND (OFF) by Burke, Dwight                  01:33
GOOD! 3 PTR by Cubillan, David                  01:28  27-28  V 1
ASSIST by Matthews, Wesley                      01:21
                                                01:14              TURNOVR by WATKINS, Darryl
STEAL by James, Dominic                         01:13
FOUL by Cubillan, David (P1T9)                  01:05
TURNOVR by Cubillan, David                      01:05
FOUL by Barro, Ousmane (P2T10)                  00:52              MISSED FT SHOT by WATKINS, Darryl
                                                00:52              REBOUND (OFF) by (DEADBALL)
REBOUND (DEF) by Hayward, Lazar                 00:52              MISSED FT SHOT by WATKINS, Darryl
SUB IN : Hayward, Lazar                         00:52              SUB IN : HARRIS, Paul
SUB OUT: Barro, Ousmane                         00:52              SUB OUT: RAUTINS, Andy
MISSED 3 PTR by James, Dominic                  00:19              REBOUND (DEF) by HARRIS, Paul
REBOUND (DEF) by James, Dominic                 00:11              MISSED DUNK by WATKINS, Darryl
MISSED JUMPER by Matthews, Wesley               00:00              BLOCK by HARRIS, Paul
REBOUND (OFF) by Matthews, Wesley               00:00
GOOD! LAYUP by James, Dominic [PNT]             00:00  29-28  H 1
ASSIST by Matthews, Wesley                      00:00


                                15/21 Marquette 29, Syracuse 28

          1st period-only      InPaint Pts-T/O 2nd-Chc FastBrk BnchPts Ties  Leads
          Syracuse               14      14       8       6      11      1     3
          15/21 Marquette        16      11      12       8       3      0     4


2nd PERIOD Play-by-Play (Page 1)
HOME TEAM: 15/21 Marquette                      TIME   SCORE  MAR  VISITORS: Syracuse
------------------------------------------------------------------------------------------------
                                                20:00              SUB IN : DEVENDORF, Eric
                                                20:00              SUB OUT: RAUTINS, Andy
                                                19:47  29-30  V 1  GOOD! JUMPER by WATKINS, Darryl [PNT]
                                                19:47              ASSIST by ROBERTS, Terrence
TURNOVR by McNeal, Jerel                        19:25
                                                19:00  29-32  V 3  GOOD! LAYUP by DEVENDORF, Eric [PNT]
GOOD! DUNK by Matthews, Wesley [PNT]            18:45  31-32  V 1
ASSIST by James, Dominic                        18:45
                                                18:33              MISSED JUMPER by WATKINS, Darryl
                                                18:33              REBOUND (OFF) by (TEAM)
                                                18:27              MISSED JUMPER by NICHOLS, Demetris
                                                18:27              REBOUND (OFF) by (TEAM)
                                                18:21              MISSED JUMPER by DEVENDORF, Eric
                                                18:21              REBOUND (OFF) by WATKINS, Darryl
                                                18:19  31-34  V 3  GOOD! TIP-IN by WATKINS, Darryl [PNT]
GOOD! JUMPER by Barro, Ousmane [PNT]            18:07  33-34  V 1
ASSIST by McNeal, Jerel                         18:07
FOUL by Matthews, Wesley (P2T1)                 17:52
                                                17:42              TURNOVR by NICHOLS, Demetris
STEAL by Hayward, Lazar                         17:40
MISSED JUMPER by James, Dominic                 17:36
REBOUND (OFF) by Matthews, Wesley               17:36
GOOD! FT SHOT by Matthews, Wesley               17:36  34-34  T 2  FOUL by WATKINS, Darryl (P1T1)
GOOD! FT SHOT by Matthews, Wesley               17:36  35-34  H 1
                                                17:20  35-36  V 1  GOOD! JUMPER by NICHOLS, Demetris
                                                17:20              ASSIST by WRIGHT, Josh
TURNOVR by Matthews, Wesley                     17:05
REBOUND (DEF) by Matthews, Wesley               16:46              MISSED 3 PTR by WRIGHT, Josh
MISSED JUMPER by McNeal, Jerel                  16:39              BLOCK by WATKINS, Darryl
REBOUND (OFF) by (TEAM)                         16:39
MISSED 3 PTR by McNeal, Jerel                   16:35              REBOUND (DEF) by DEVENDORF, Eric
                                                16:30              TURNOVR by DEVENDORF, Eric
STEAL by McNeal, Jerel                          16:29
GOOD! LAYUP by Matthews, Wesley [FB/PNT]        16:25  37-36  H 1
MISSED FT SHOT by Matthews, Wesley              16:25              FOUL by WATKINS, Darryl (P2T2)
                                                16:25              REBOUND (DEF) by WRIGHT, Josh
SUB IN : Burke, Dwight                          16:25
SUB OUT: Hayward, Lazar                         16:25
                                                16:09              TURNOVR by DEVENDORF, Eric
STEAL by Barro, Ousmane                         16:08
GOOD! LAYUP by James, Dominic [FB/PNT]          16:05  39-36  H 3
ASSIST by Matthews, Wesley                      16:05
                                                16:02              TIMEOUT 30sec
REBOUND (DEF) by Matthews, Wesley               15:50              MISSED JUMPER by WRIGHT, Josh
MISSED JUMPER by McNeal, Jerel                  15:42              REBOUND (DEF) by WATKINS, Darryl
                                                15:32              MISSED 3 PTR by NICHOLS, Demetris
                                                15:32              REBOUND (OFF) by WATKINS, Darryl
BLOCK by McNeal, Jerel                          15:28              MISSED 3 PTR by DEVENDORF, Eric
                                                15:25              REBOUND (OFF) by DEVENDORF, Eric
REBOUND (DEF) by Barro, Ousmane                 15:22              MISSED JUMPER by DEVENDORF, Eric
TIMEOUT media                                   15:17
                                                15:17              SUB IN : HARRIS, Paul
                                                15:17              SUB OUT: WRIGHT, Josh
TURNOVR by Matthews, Wesley                     15:13
                                                15:11              STEAL by WATKINS, Darryl
FOUL by Burke, Dwight (P1T2)                    15:05
                                                15:05              MISSED JUMPER by DEVENDORF, Eric
                                                15:05              REBOUND (OFF) by NICHOLS, Demetris
BLOCK by Burke, Dwight                          15:05
                                                15:05  39-37  H 2  GOOD! FT SHOT by NICHOLS, Demetris
REBOUND (DEF) by Barro, Ousmane                 15:05              MISSED FT SHOT by NICHOLS, Demetris
MISSED FT SHOT by James, Dominic                14:34              FOUL by HARRIS, Paul (P1T3)
REBOUND (OFF) by (DEADBALL)                     14:34
MISSED FT SHOT by James, Dominic                14:34
REBOUND (OFF) by (DEADBALL)                     14:34
MISSED FT SHOT by James, Dominic                14:34              REBOUND (DEF) by ROBERTS, Terrence
                                                14:34              SUB IN : WRIGHT, Josh
                                                14:34              SUB OUT: HARRIS, Paul
FOUL by Barro, Ousmane (P3T3)                   14:15  39-38  H 1  GOOD! FT SHOT by NICHOLS, Demetris
                                                14:15  39-39  T 3  GOOD! FT SHOT by NICHOLS, Demetris
SUB IN : Cubillan, David                        13:45
SUB OUT: James, Dominic                         13:45
MISSED 3 PTR by Cubillan, David                 13:37              REBOUND (DEF) by WATKINS, Darryl
FOUL by Burke, Dwight (P2T4)                    13:34              MISSED FT SHOT by WRIGHT, Josh
                                                13:34              REBOUND (OFF) by (DEADBALL)
                                                13:34  39-40  V 1  GOOD! FT SHOT by WRIGHT, Josh
MISSED JUMPER by Matthews, Wesley               13:00
REBOUND (OFF) by Barro, Ousmane                 13:00
MISSED 3 PTR by McNeal, Jerel                   12:47              REBOUND (DEF) by ROBERTS, Terrence
                                                12:40  39-42  V 3  GOOD! LAYUP by DEVENDORF, Eric [FB/PNT]
                                                12:40              ASSIST by WRIGHT, Josh
GOOD! 3 PTR by McNeal, Jerel                    12:07  42-42  T 4
                                                11:53  42-44  V 2  GOOD! DUNK by ROBERTS, Terrence [PNT]
                                                11:53              ASSIST by WRIGHT, Josh
TURNOVR by Matthews, Wesley                     11:38
                                                11:38              TIMEOUT MEDIA
SUB IN : Fitzgerald, Dan                        11:38
SUB OUT: Matthews, Wesley                       11:38
                                                11:24              TURNOVR by DEVENDORF, Eric
MISSED FT SHOT by McNeal, Jerel                 10:58              FOUL by NICHOLS, Demetris (P2T4)
REBOUND (OFF) by (DEADBALL)                     10:58
MISSED FT SHOT by McNeal, Jerel                 10:58              REBOUND (DEF) by ROBERTS, Terrence
                                                10:46  42-46  V 4  GOOD! JUMPER by DEVENDORF, Eric [PNT]
MISSED 3 PTR by Cubillan, David                 10:27              BLOCK by DEVENDORF, Eric
                                                10:24              REBOUND (DEF) by (TEAM)
SUB IN : Matthews, Wesley                       10:23
SUB IN : Hayward, Lazar                         10:23
SUB OUT: McNeal, Jerel                          10:23
SUB OUT: Burke, Dwight                          10:23
FOUL by Fitzgerald, Dan (P3T5)                  10:12
REBOUND (DEF) by Barro, Ousmane                 10:08              MISSED JUMPER by NICHOLS, Demetris
GOOD! JUMPER by Matthews, Wesley [PNT]          09:52  44-46  V 2
ASSIST by Cubillan, David                       09:52
STEAL by Cubillan, David                        09:38              TURNOVR by ROBERTS, Terrence
                                                09:38              FOUL by DEVENDORF, Eric (P3T5)
GOOD! JUMPER by Matthews, Wesley [PNT]          09:23  46-46  T 5
                                                09:05  46-48  V 2  GOOD! JUMPER by DEVENDORF, Eric [PNT]
FOUL by Matthews, Wesley (P3T6)                 08:43
MISSED JUMPER by Barro, Ousmane                 08:43              BLOCK by WATKINS, Darryl
SUB IN : James, Dominic                         08:43
SUB OUT: Matthews, Wesley                       08:43
                                                08:41              REBOUND (DEF) by WRIGHT, Josh
STEAL by James, Dominic                         08:35              TURNOVR by ROBERTS, Terrence
                                                08:35              FOUL by WATKINS, Darryl (P3T6)
TURNOVR by Hayward, Lazar                       08:17
                                                08:15              STEAL by WRIGHT, Josh
REBOUND (DEF) by Barro, Ousmane                 08:01              MISSED 3 PTR by NICHOLS, Demetris
TURNOVR by Fitzgerald, Dan                      07:53
                                                07:52              STEAL by NICHOLS, Demetris
                                                07:47              MISSED JUMPER by NICHOLS, Demetris
                                                07:47              REBOUND (OFF) by WATKINS, Darryl
FOUL by Barro, Ousmane (P4T7)                   07:33
                                                07:33              TIMEOUT media
                                                07:33  46-49  V 3  GOOD! FT SHOT by WRIGHT, Josh
REBOUND (DEF) by McNeal, Jerel                  07:33              MISSED FT SHOT by WRIGHT, Josh
SUB IN : Lott, Jamil                            07:33
SUB IN : Burke, Dwight                          07:33
SUB IN : McNeal, Jerel                          07:33
SUB OUT: Hayward, Lazar                         07:33
SUB OUT: Barro, Ousmane                         07:33
SUB OUT: Fitzgerald, Dan                        07:33
TURNOVR by McNeal, Jerel                        07:17
                                                07:16              STEAL by ROBERTS, Terrence
FOUL by James, Dominic (P2T8)                   06:53  46-50  V 4  GOOD! FT SHOT by WATKINS, Darryl
                                                06:53  46-51  V 5  GOOD! FT SHOT by WATKINS, Darryl
MISSED 3 PTR by James, Dominic                  06:35
REBOUND (OFF) by McNeal, Jerel                  06:35
GOOD! TIP-IN by McNeal, Jerel [PNT]             06:33  48-51  V 3
STEAL by James, Dominic                         06:25              TURNOVR by DEVENDORF, Eric
GOOD! LAYUP by Lott, Jamil [FB/PNT]             06:21  50-51  V 1
ASSIST by James, Dominic                        06:21
FOUL by Cubillan, David (P2T9)                  06:02              MISSED FT SHOT by NICHOLS, Demetris
REBOUND (DEF) by McNeal, Jerel                  06:02
TIMEOUT 30sec                                   05:42
TURNOVR by McNeal, Jerel                        05:41              STEAL by WRIGHT, Josh
BLOCK by Lott, Jamil                            05:34              MISSED JUMPER by WRIGHT, Josh
                                                05:32              REBOUND (OFF) by DEVENDORF, Eric
FOUL by James, Dominic (P3T10)                  05:15  50-52  V 2  GOOD! FT SHOT by WATKINS, Darryl
                                                05:15  50-53  V 3  GOOD! FT SHOT by WATKINS, Darryl
SUB IN : Barro, Ousmane                         05:15
SUB OUT: Lott, Jamil                            05:15
GOOD! LAYUP by Barro, Ousmane [PNT]             04:53  52-53  V 1
ASSIST by James, Dominic                        04:53
                                                04:38              MISSED JUMPER by DEVENDORF, Eric
                                                04:38              REBOUND (OFF) by WATKINS, Darryl
FOUL by McNeal, Jerel (P3T11)                   04:29  52-54  V 2  GOOD! FT SHOT by WRIGHT, Josh
                                                04:29  52-55  V 3  GOOD! FT SHOT by WRIGHT, Josh
SUB IN : Matthews, Wesley                       04:29
SUB OUT: McNeal, Jerel                          04:29
GOOD! 3 PTR by Cubillan, David                  04:05  55-55  T 6
ASSIST by Matthews, Wesley                      04:05
STEAL by Barro, Ousmane                         03:49              TURNOVR by WRIGHT, Josh
TIMEOUT MEDIA                                   03:49
MISSED 3 PTR by James, Dominic                  03:29              REBOUND (DEF) by WATKINS, Darryl
FOUL by Cubillan, David (P3T12)                 03:11
                                                03:11              MISSED JUMPER by NICHOLS, Demetris
BLOCK by Barro, Ousmane                         03:11              MISSED FT SHOT by DEVENDORF, Eric
                                                03:11              REBOUND (OFF) by (DEADBALL)
                                                03:11  55-56  V 1  GOOD! FT SHOT by DEVENDORF, Eric
SUB IN : McNeal, Jerel                          03:11
SUB OUT: Burke, Dwight                          03:11
                                                03:09              REBOUND (OFF) by (TEAM)
MISSED JUMPER by Matthews, Wesley               02:52              REBOUND (DEF) by NICHOLS, Demetris
                                                02:31  55-59  V 4  GOOD! 3 PTR by NICHOLS, Demetris
GOOD! FT SHOT by Barro, Ousmane                 02:12  56-59  V 3  FOUL by ROBERTS, Terrence (P4T7)
TURNOVR by Matthews, Wesley                     02:12
FOUL by James, Dominic (P4T13)                  02:00  56-60  V 4  GOOD! FT SHOT by WRIGHT, Josh
REBOUND (DEF) by Barro, Ousmane                 02:00              MISSED FT SHOT by WRIGHT, Josh
TURNOVR by McNeal, Jerel                        01:47
                                                01:45              STEAL by DEVENDORF, Eric
                                                01:44  56-62  V 6  GOOD! LAYUP by WRIGHT, Josh [FB/PNT]
                                                01:44              ASSIST by DEVENDORF, Eric
TIMEOUT 30sec                                   01:40
MISSED FT SHOT by McNeal, Jerel                 01:18              FOUL by WATKINS, Darryl (P4T8)
REBOUND (OFF) by Matthews, Wesley               01:18
MISSED TIP-IN by Matthews, Wesley               01:18
REBOUND (OFF) by Cubillan, David                01:18
MISSED 3 PTR by Cubillan, David                 01:15              REBOUND (DEF) by (DEADBALL)
FOUL by McNeal, Jerel (P4T14)                   01:07              MISSED FT SHOT by NICHOLS, Demetris
                                                01:07              REBOUND (OFF) by (DEADBALL)
REBOUND (DEF) by Fitzgerald, Dan                01:07              MISSED FT SHOT by NICHOLS, Demetris
SUB IN : Fitzgerald, Dan                        01:07
SUB OUT: Barro, Ousmane                         01:07
MISSED JUMPER by McNeal, Jerel                  00:53              REBOUND (DEF) by ROBERTS, Terrence
FOUL by Fitzgerald, Dan (P4T15)                 00:53  56-63  V 7  GOOD! FT SHOT by ROBERTS, Terrence
                                                00:53  56-64  V 8  GOOD! FT SHOT by ROBERTS, Terrence
FOUL by McNeal, Jerel (P5T16)                   00:41
MISSED JUMPER by Matthews, Wesley               00:41              BLOCK by WATKINS, Darryl
                                                00:41              REBOUND (DEF) by WATKINS, Darryl
                                                00:41  56-65  V 9  GOOD! FT SHOT by WATKINS, Darryl
                                                00:41  56-66  V 10 GOOD! FT SHOT by WATKINS, Darryl
SUB IN : Barro, Ousmane                         00:41
SUB OUT: McNeal, Jerel                          00:41
MISSED 3 PTR by James, Dominic                  00:30
REBOUND (OFF) by James, Dominic                 00:30
TIMEOUT 30sec                                   00:29
GOOD! TIP-IN by James, Dominic [PNT]            00:29  58-66  V 8
FOUL by Matthews, Wesley (P4T17)                00:27  58-67  V 9  GOOD! FT SHOT by NICHOLS, Demetris
                                                00:27  58-68  V 10 GOOD! FT SHOT by NICHOLS, Demetris
MISSED 3 PTR by James, Dominic                  00:20              BLOCK by DEVENDORF, Eric
FOUL by Fitzgerald, Dan (P5T18)                 00:19
REBOUND (OFF) by (TEAM)                         00:19
TURNOVR by Blackledge, Lawrence                 00:19              STEAL by DEVENDORF, Eric
                                                00:19  58-69  V 11 GOOD! FT SHOT by DEVENDORF, Eric
                                                00:19  58-70  V 12 GOOD! FT SHOT by DEVENDORF, Eric
SUB IN : Hayward, Lazar                         00:19
SUB IN : Blackledge, Lawrence                   00:19
SUB OUT: Barro, Ousmane                         00:19
SUB OUT: Fitzgerald, Dan                        00:19
MISSED 3 PTR by Matthews, Wesley                00:10
REBOUND (OFF) by Blackledge, Lawrence           00:10
MISSED TIP-IN by Blackledge, Lawrence           00:08
REBOUND (OFF) by Hayward, Lazar                 00:08
MISSED TIP-IN by Hayward, Lazar                 00:05              REBOUND (DEF) by NICHOLS, Demetris


                                Syracuse 70, 15/21 Marquette 58

          2nd period-only      InPaint Pts-T/O 2nd-Chc FastBrk BnchPts Ties  Leads
          Syracuse               16      13       8       4      11      1     3
          15/21 Marquette        20      10       6       6       5      4     2


Official Basketball Box Score -- 1st Half


Official Basketball Box Score -- 1st Half
Syracuse vs 15/21 Marquette
01/07/07 7 p.m. at Miwaukee, Wis. (Bradley Center)

--------------------------------------------------------------------------------
VISITORS: Syracuse 12-4,1-1
                          TOT-FG  3-PT         REBOUNDS
## Player Name            FG-FGA FG-FGA FT-FTA OF DE TOT PF  TP  A TO BLK S MIN
33 ROBERTS, Terrence... f  2-3    0-0    0-0    1  1  2   3   4  0  0  1  1  11
34 NICHOLS, Demetris... f  3-8    1-4    0-0    2  2  4   1   7  0  4  0  1  18
13 WATKINS, Darryl..... c  2-3    0-0    0-2    2  0  2   0   4  1  1  2  0  15
01 RAUTINS, Andy....... g  0-1    0-1    0-0    0  1  1   0   0  1  0  0  1   7
30 WRIGHT, Josh........ g  1-3    0-2    0-2    1  4  5   1   2  4  3  0  0  20
11 HARRIS, Paul........    1-3    0-0    0-0    1  3  4   0   2  0  1  1  0  12
23 DEVENDORF, Eric.....    4-8    1-2    0-2    0  1  1   2   9  0  3  0  1  17
   TEAM................                         1     1
   Totals..............   13-29   2-9    0-6    8 12 20   7  28  6 12  4  4 100

TOTAL FG% 1st Half: 13-29 44.8%
3-Pt. FG% 1st Half:  2-9  22.2%
F Throw % 1st Half:  0-6   0.0%


--------------------------------------------------------------------------------
HOME TEAM: 15/21 Marquette 13-4,0-2
                          TOT-FG  3-PT         REBOUNDS
## Player Name            FG-FGA FG-FGA FT-FTA OF DE TOT PF  TP  A TO BLK S MIN
32 Hayward, Lazar...... f  2-2    0-0    3-4    2  2  4   1   7  0  0  0  0  11
41 Barro, Ousmane...... f  1-2    0-0    0-0    2  1  3   2   2  0  0  1  1  16
01 James, Dominic...... g  1-5    0-3    0-0    0  3  3   1   2  3  2  1  1  17
22 McNeal, Jerel....... g  5-10   1-3    0-1    0  0  0   2  11  2  3  0  4  14
23 Matthews, Wesley.... g  2-9    0-2    0-0    2  2  4   1   4  3  1  1  1  19
05 Fitzgerald, Dan.....    0-0    0-0    0-0    0  0  0   2   0  0  2  0  0   3
10 Cubillan, David.....    1-1    1-1    0-0    0  0  0   1   3  0  2  0  0   7
12 Burke, Dwight.......    0-1    0-0    0-0    2  3  5   0   0  0  1  1  0   8
21 Blackledge, Lawrence    0-0    0-0    0-0    0  0  0   0   0  0  1  0  0   2
51 Lott, Jamil.........    0-1    0-0    0-0    0  0  0   0   0  0  0  0  0   3
   TEAM................
   Totals..............   12-31   2-9    3-5    8 11 19  10  29  8 12  4  7 100

TOTAL FG% 1st Half: 12-31 38.7%
3-Pt. FG% 1st Half:  2-9  22.2%
F Throw % 1st Half:  3-5  60.0%


--------------------------------------------------------------------------------
Officials: Jim Burr, Tom Lopes, Michael Stephens
Technical fouls: Syracuse-None. 15/21 Marquette-None.
Attendance: 18458
Score by Periods                1st
Syracuse......................   28
15/21 Marquette...............   29
ID-485069

Points in the paint-SYRACUSE 14,MARQ 16. Points off turnovers-SYRACUSE 14,MARQ 11.
2nd chance points-SYRACUSE 8,MARQ 12. Fast break points-SYRACUSE 6,MARQ 8.
Bench points-SYRACUSE 11,MARQ 3. Score tied-1 time. Lead changed-7 times.
Last FG-SYRACUSE 2nd-01:44, MARQ 2nd-00:29.
Largest lead-SYRACUSE by 12 2nd-00:19, MARQ by 3 1st-11:23.

Official Basketball Box Score -- 2nd Half


Official Basketball Box Score -- 2nd Half
Syracuse vs 15/21 Marquette
01/07/07 7 p.m. at Miwaukee, Wis. (Bradley Center)

--------------------------------------------------------------------------------
VISITORS: Syracuse 12-4,1-1
                          TOT-FG  3-PT         REBOUNDS
## Player Name            FG-FGA FG-FGA FT-FTA OF DE TOT PF  TP  A TO BLK S MIN
33 ROBERTS, Terrence... f  1-1    0-0    2-2    0  4  4   1   4  1  2  0  1  20
34 NICHOLS, Demetris... f  2-8    1-3    5-9    1  2  3   1  10  0  1  0  1  20
13 WATKINS, Darryl..... c  2-3    0-0    6-6    4  4  8   4  10  0  0  3  1  20
01 RAUTINS, Andy....... g  0-0    0-0    0-0    0  0  0   0   0  0  0  0  0   0
30 WRIGHT, Josh........ g  1-4    0-1    5-8    0  2  2   0   7  3  1  0  2  19
11 HARRIS, Paul........    0-0    0-0    0-0    0  0  0   1   0  0  0  0  0   1
23 DEVENDORF, Eric.....    4-9    0-1    3-4    2  1  3   1  11  1  4  2  2  20
   TEAM................                         3  1  4
   Totals..............   10-25   1-5   21-29  10 14 24   8  42  5  8  5  7 100

TOTAL FG% 1st Half: 13-29 44.8%   2nd Half: 10-25 40.0%   Game: 42.6%
3-Pt. FG% 1st Half:  2-9  22.2%   2nd Half:  1-5  20.0%   Game: 21.4%
F Throw % 1st Half:  0-6   0.0%   2nd Half: 21-29 72.4%   Game: 60.0%


--------------------------------------------------------------------------------
HOME TEAM: 15/21 Marquette 13-4,0-2
                          TOT-FG  3-PT         REBOUNDS
## Player Name            FG-FGA FG-FGA FT-FTA OF DE TOT PF  TP  A TO BLK S MIN
32 Hayward, Lazar...... f  0-1    0-0    0-0    1  0  1   0   0  0  1  0  1   7
41 Barro, Ousmane...... f  2-3    0-0    1-1    1  5  6   2   5  0  0  1  2  17
01 James, Dominic...... g  2-7    0-4    0-3    1  0  1   3   4  3  0  0  2  15
22 McNeal, Jerel....... g  2-7    1-3    0-3    1  2  3   3   5  1  4  1  1  15
23 Matthews, Wesley.... g  4-9    0-1    2-3    2  2  4   3  10  2  4  0  0  15
05 Fitzgerald, Dan.....    0-0    0-0    0-0    0  1  1   3   0  0  1  0  0   5
10 Cubillan, David.....    1-4    1-4    0-0    1  0  1   2   3  1  0  0  1  14
12 Burke, Dwight.......    0-0    0-0    0-0    0  0  0   2   0  0  0  1  0  10
21 Blackledge, Lawrence    0-1    0-0    0-0    1  0  1   0   0  0  1  0  0  0+
51 Lott, Jamil.........    1-1    0-0    0-0    0  0  0   0   2  0  0  1  0   2
   TEAM................                         2     2
   Totals..............   12-33   2-12   3-10  10 10 20  18  29  7 11  4  7 100

TOTAL FG% 1st Half: 12-31 38.7%   2nd Half: 12-33 36.4%   Game: 37.5%
3-Pt. FG% 1st Half:  2-9  22.2%   2nd Half:  2-12 16.7%   Game: 19.0%
F Throw % 1st Half:  3-5  60.0%   2nd Half:  3-10 30.0%   Game: 40.0%


--------------------------------------------------------------------------------
Officials: Jim Burr, Tom Lopes, Michael Stephens
Technical fouls: Syracuse-None. 15/21 Marquette-None.
Attendance: 18458
Score by Periods                1st  2nd   Total
Syracuse......................   28   42  -   70
15/21 Marquette...............   29   29  -   58
ID-485069

Points in the paint-SYRACUSE 30,MARQ 36. Points off turnovers-SYRACUSE 27,MARQ 21.
2nd chance points-SYRACUSE 16,MARQ 18. Fast break points-SYRACUSE 10,MARQ 14.
Bench points-SYRACUSE 22,MARQ 8. Score tied-6 times. Lead changed-12 times.
Last FG-SYRACUSE 2nd-01:44, MARQ 2nd-00:29.
Largest lead-SYRACUSE by 12 2nd-00:19, MARQ by 3 1st-11:23.

Play Analysis


Syracuse vs 15/21 Marquette (01/07/07 - Period 2 00:00)

POINTS OFF TURNOVERS        1   2 - Tot
Syracuse................   14  13 -  27
15/21 Marquette.........   11  10 -  21

POINTS IN PAINT             1   2 - Tot
Syracuse................   14  16 -  30
15/21 Marquette.........   16  20 -  36

2ND CHANCE POINTS           1   2 - Tot
Syracuse................    8   8 -  16
15/21 Marquette.........   12   6 -  18

FAST BREAK POINTS           1   2 - Tot
Syracuse................    6   4 -  10
15/21 Marquette.........    8   6 -  14

BENCH POINTS                1   2 - Tot
Syracuse................   11  11 -  22
15/21 Marquette.........    3   5 -   8

SCORE TIED BY               1   2 - Tot
Syracuse................    1   1 -   2
15/21 Marquette.........    0   4 -   4

LEAD GAINED BY              1   2 - Tot
Syracuse................    3   3 -   6
15/21 Marquette.........    4   2 -   6