MUScoop Wiki - By the fans, for the fans.
Tales from the Marquette Hardwood (2005)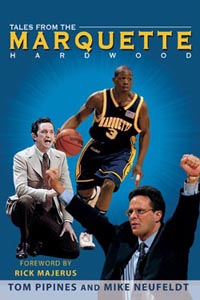 Book Description
Marquette University Men's Basketball has a long and storied tradition. Tales of Marquette Basketball takes a look at the high, and low points from McGuire to Crean and everything in between by weaving personal interviews with many great Marquette players and coaches including Hank Raymonds, Rick Majerus, Mike Deane, Tom Crean, Glenn 'Doc' Rivers, Jim McIlvaine, Travis Diener and Tony Smith as they give insight to memorable moments, both on and off the court. Under the colorful Coach Al McGuire, Marquette University basketball flourished as one of the top collegiate programs in the country. Throughout the 1960s and 1970s, the "super salesman" made successful pitches to some of America's finest young players. These young men experienced an entirely different way of life. But the life lessons they learned from Al prepared them for success-in the basketball arena-and beyond. Behind the scenes stories, based on numerous interviews, will help give unique insight to this mesmerizing personality. Of course, the focal point is that "magic carpet ride" to the 1977 NCAA Championship! Many observers wondered if the once proud Marquette program would ever again approach the standards set by Al McGuire. Exit Bob Dukiet, enter Kevin O'Neill, in 1989. The ultra intense assistant coach at Arizona used salty language, but in his fifth season at the helm, "K.O." took Marquette to the NCAA's Sweet Sixteen. In his fourth season, Crean and All-American Dwyane Wade led Marquette to the Conference USA championship and a return to the Final Four! Somehow, the Marquette program had come full circle. Before his death, Al McGuire spent hours just talking with Tom Crean. In some ways, Al became the father Tom never had. We hope you enjoy these Tales of Marquette Basketball.
Foreword by Rick Majerus.
About the Authors
Mike Neufeldt graduated from Marquette University in 2000 with a degree in broadcast and electronic communications. An avid sports fan, Mike began attending Marquette basketball games when he interned at WITI Fox 6 in Milwaukee during middle and high school. Mike and Tom Pipines became friends while working together on the Muscular Dystrophy Association (MDA) Jerry Lewis Telethon. Neufeldt served as the MDA Goodwill Ambassador for Southeast Wisconsin in 1985 and 1986 and he had the honor to represent MDA as the National Goodwill Ambassador in 1987 and 1988. Currently, Mike works at Harley-Davidson Motor Company in Milwaukee, Wisconsin in their interactive communications department.
Tom Pipines grew up in Syracuse, New York dreaming of becoming a big league baseball player. As a freshman at Baldwin Wallace College in Bera. Ohio, he became blown away by sports broadcasting and then transferred to Ithaca College in upstate New York for a chance to get hands-on experience in their fine TV/radio department. He currently works for FOX 6 in Milwaukee as a sports reporter. He and his wife, Monica, have two children T.J. and Abbie.