MUScoop Wiki - By the fans, for the fans.
Vic Lazzaretti #45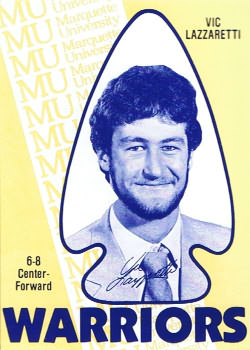 Position: Forward/Center
Height: 6'8"
Weight: 220 lbs.
Birthdate:
Hometown: Andover, MA
High School: Creighton Prep (Omaha, NE)

High School Career
Lazzaretti had senior year averages of 12 ppg and 10 rpg. He also shot 70% from the field during his senior campaign.
Marquette Career