MUScoop Wiki - By the fans, for the fans.
Walt Mangham
Position: Forward
Height: 6'3"
Weight:
Born:
Hometown:
High School:New Castle

High School Career
Mangham was a two-time All-State Selection and New Castle Highschool, graduating in 1956. Asides from basketball, Mangham also set a state record in the High Jump with a jump of 6'9 3/4". This jump raised the record 4 3/4" and stood for 18 years.
Marquette Career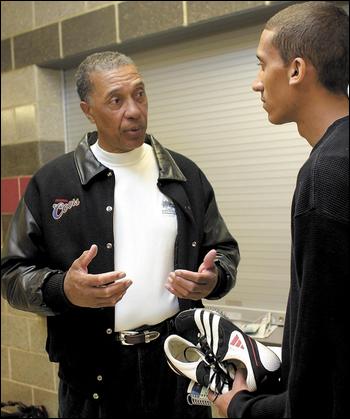 1957-58
Walt averaged 7.5 points per game and led Marquette in rebounding with 10.2 boards per game.
1958-59
Mangham averaged 13.3 points and 12.8 rebounds per game.
1959-60
Walt averaged 17.3 points and 13.6 rebounds during his senior campaign.
All-Time Marquette Rankings
All-Time Career Leader Rankings
3rd, Rebounding Average (12.3)
All-Time Single Season Rankings
5th, Rebounds (372)

7th, Rebounds (341)

5th, Rebounding Average (13.6)

8th, Rebounding Average (12.8)
All-Time Senior Season Rankings
7th, Field Goals Attempted (468)

2nd, Rebounds (341)

2nd, Rebounding Average (13.7)
All-Time Junior Season Rankings
3rd, Rebounds (372)

4th, Rebounding Average (12.8)
Accolades
1958-59 UPI Honorable Mention All-American
Professional Career
Mangham was drafted by the New York Knicks in the 10th round of the 1960 NBA Draft. He later switched to the now defunct American Basketball League, playing for the Pittsburgh Rens, where he finished 23rd on the All-Time scoring list with 1067 points.
Non-Athletic Career
After retiring from professional basketball Mangham worked as a Sales Representitive for Frank Fuhrer Wholesale, a Coors Beer distributer until he retired in December 2004.
photos