MUScoop Wiki - By the fans, for the fans.
Willie Kingsley #11
Position: Center
Height: 6'8"
Weight: 210 lbs.
Birthdate:
Hometown: Chicago, IL
High School: Bishop Noll in Hammond, IN

High School Career
Received Honorable Mention All-State recognition as a junior and was named to the All-State team his senior year.
Marquette Career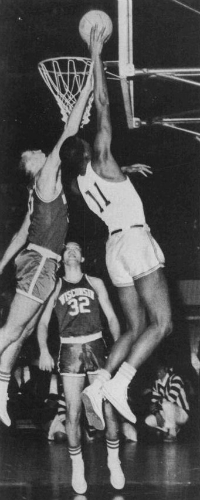 A two-year letterman, he played in 16 games during the 1962-63 season and scored 19 points for a 1.2 average, but was sidelined for seven weeks with a should dislocation. Best game was 10 points against St. Mary's of California. Has a good touch, an adequate hook shot, good jumping ability and is excellent at taking the ball of the boards and making the outlet pass to start a fast break. Biggest problem is lack of aggressiveness under the boards. Grabbed 27 rebounds last year, a 1.7 average, but looked good against Providence in the National Invitation Tournament when he came off the bench and collected seven rebounds at a crucial stage of the game. Scored 53 points in 21 games as a sophomore for a 2.5 average and was the third-leading scorer on the freshman team three years ago with 172 points for a 13.2 average.
During the 1963-64 season, Willie averaged 9.5 points per game.