MUScoop Wiki - By the fans, for the fans.
Chris Colvin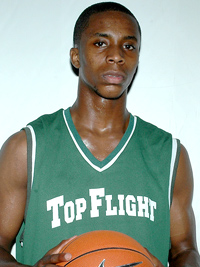 Class: 2009

Nickname(s):

Position: PG

Height: 6'2"

Weight: 174 lbs

Birthday:

Hometown: Chicago, IL

High School: Whitney Young H.S.

AAU Team: Illinois Fire, Rising Stars, Top Flight Sports, Chicago Express

Rankings: 19th PG (112th overall) and 2nd in the state of Illinois by Rivals.com

Interest Level: Medium
Marquette Career
High School Career
AAU Career
Analysis
"Colvin, who had a stellar showing this past weekend playing with Top-Flight at the Windy City Classic, ranks as one of the elite point guards in the nation. His recruiting stock rose after stellar showings in the Real Deal on the Hill and the King James Shooting Stars Classic. Smooth and smart with the ball in his hands, Colvin is a pure point guard with a knack for finding the open man. He is great at taking the ball to the hoop, and is terrific in transition. His outside shot is getting better every time I see him play.
The new staff at Marquette University is also on Colvin hard, and you can expect Colvin to visit their campus very soon and possibly recieve an offer. Chris Colvin now has offers from Providence, Florida St., Oklahoma, Iowa, Bradley, Miami (OH), and others."
IllinoisHSBasketball.com Analysis
"An extremely skilled point guard who is very poised on the floor. Colvin is a great lead guard that can score and distribute the ball. He handles it well, is a good passer, and is also good defensively. As he continues to add confidence in his outside shot, he will begin to see his stock rise even higher."
MidStateHoops.com Analysis
"Chris Colvin is a quick and explosive combo guard. He has one of the best first steps in the 2009 class in Illinois. He can create his own shot and can also get in the lane and create for others. His mentality right now is to score first and to pass second. He is a tough kid who will defend as well. He is a good pull-up shooter, but is not great at finishing at the basket. He needs to work on his decision making, especially in the half-court. He has a tendency to dribble himself into trouble. Colvin is a very good prospect who has really just recently burst onto the scene. He is only going to get better.
Chris is a very athletic point guard. He is an excellent slasher. He can get in the lane very well and score or pass. Once Chris gets to the basket he can finish with a dunk. He has great size for a point guard. He is also a solid shooter to 17 feet. Chris is also a good on ball defender with his size and athleticism. Chris is a top 40 player nationally in the 2009 class. Grade = 40"
ESPN.com November 2007 Evaluation
"A physical lead guard, Colvin has the strength and quickness to get into the lane almost at will. Once inside the interior of the defense, he has the ability to finish as well as set up his shooters. Defensively, he has the tools to be a dominant defender against either guard position." - Rival's Jerry Meyer
Video / Pics