MUScoop Wiki - By the fans, for the fans.
DAVID BROWN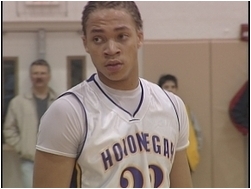 Class: 2009

Nickname(s):

Position: SG

Height: 6'3"

Weight: 190 lbs

Birthday:

Hometown: Rockton, IL

High School: Hononegah High School

AAU Team: Illinois Warriors, Madison Spartans
Marquette Career
David received interest from Marquette University under newly named head coach Buzz Williams.
Illinois Preps Bullseye May 17th, 2008
6'2 guard Darius Smith from Marshall High School in Chicago and 6'3 guard David Brown from Hononegah High School in Rockton, IL are both high priority recruits for Marquette University. In fact, Golden Eagles head coach Buzz Williams and his entire coaching staff are evaluating both Smith and Brown most intently and as of now let's just say that there is an extremely high level of interest. At the present time Smith has offers from Bradley, Illinois State, Baylor, and Loyola-Chicago and is also receiving serious attention from Indiana, Iowa, Wisconsin, Southern Illinois and Kent State among others. Brown, meanwhile, already has offers in the fold from DePaul, Loyola-Chicago, Wright State, Illinois State, Northern Illinois, Eastern Illinois and Western Michigan. In addition, Northwestern is also a school that is showing increased interest in Brown. We expect the number of offers for both of these players to increase at a rapid pace between now and the end of July.
High School Career
Underrated Players to Watch In the Class of 2009 Illinoisbasketball.com May 23, 2008
David Brown (6-3 SG Rockton Honnenegah) is making a strong case for being considered the #1 player in the state. Though he isn't an outstanding athlete, he has virtually no flaw to his game offensively or defensively and has a poise and feel for the game that is unmatched. An outstanding outside shooter, Brown made it to the final four in the state three point contest, and in his last game of the season scored 40 points on 14-20 shooting from the field. Brown has offers from Oklahoma State, DePaul, Bradley, Western Michigan, Loyola, Eastern Illinois, Western Illinois, Wright State and Northern Illinois, and is expected to garner a lot more offers this summer while playing for the Illinois Warriors and the Madison Spartans.
Illinois Warriors, Madison Spartans Career
Analysis/Articles
Top Available Talent Still On The Board For The Illinois Class Of 2009
Chicago Hoops May 12, 2008
A good deal of basketball talent from the Illinois Class of 2009 is already off the board. Here is a look at some of the top talent still available for 2009. The list is headed by David Brown of Rockton Hononegah.
David Brown
Position: Guard/Forward Height: 6-3
High School: Rockton Hononegah Class: 2009
A stellar all-around talent who makes things happen from all points on the basketball court. On any given day is as good as any player in the 2009 class.

Rockton Hononegah Star David Brown Leads The Way As The Illinois Warriors Roll To The Sabes (Howard Pulley) Invitational Title In Minnesota
Chicago Hoops May 12, 2008
Behind the strong play of David Brown (Rockton Hononegah), the Illinois Warriors defeated St. Paul Grassroots to win the 17-U title over the weekend Sabes (Howard Pulley) Invitational in Minnesota.
The Warriors got to the title game after knocking off highly regarded Michael Dixon, and Kansas City Pump N' Run in the semifinals. In the title game win over St. Paul Grassroots, red-hot 6-3 wing David Brown (Rockton Hononegah) scored 23 points to power the Warriors.
The Warriors also got strong efforts from Illinois-bound D.J. Richardson (Peoria Central), Darius Smith (Chicago Marshall), Jeremy Jones (Chicago Simeon) and Lawrence Thomas (Springfield Southeast).
The Warriors now have the Sabes Invitational title to add to their runner-up finish earlier this spring at the Real Deal on the Hill in Fayetteville, Arkansas.

David Brown gets offer and gets injured
By: Mid-State Editor Cavan Walsh 2008- April 22nd

Highly regarded 2009 prospect David Brown is garnering plenty of attention from college coaches from across the country, and should have a breakout season on the AAU circuit. The 6-3 wing from Hononegah competed this past weekend with the Illinois Warriors at Real Deal on the Hill, and did nothing but help his stock as he received his seventh scholarship offer courtesy of Illinois State. The scholarship offers are expected to keep rolling in for Brown, though they will have to wait as he is injured and will miss the King James Classic this weekend.
"Yah, Illinois State they offered today, they called my head coach Mike Miller and told him that they are going to offer," said Brown. "It's a pretty nice school; I am definitely looking at them and everything. But I am looking at all the offers that come my way."
Brown tweaked his foot and ankle prior to the championship game ultimately holding him out.
"I couldn't play in the championship; I sprained my left foot and right ankle. I'm on crutches right now, and I am going to try and start walking this Thursday. I am not going to King James next weekend I am just going to stay home."

David Brown Picks Up 2 More Offers
March 9th, 2008
David Brown came into this season on a mission. The 6-3 junior was not ranked as one of the top players in the class of 2009, and few people thought he had a chance at a D1 scholarship. Brown wanted to change that. After a spectacular season in which he led Hononegah high school to a top 5 statewide ranking, a number one seed in their sectional, and a 28-3 record, David has picked up his 4th and 5th scholarship offers, from Loyola University of the Horizon League and DePaul University of the Big East.
"The offer from DePaul means a lot," said Brown via a telephone interview while on his way back from an unofficial visit to Western Michigan. "It is special because they are a really big school and they are in the Big East. This is a big confidence boost because I know that I can play at any high major D1 school I want."
Loyola and DePaul's offers follow three offers he got earlier in the year from Wright State, Eastern Illinois and Northern Illinois. Loyola and DePaul are both located in Chicago, and that is a big plus in Brown's eyes.
"I used to live in Chicage and I have friends in Chicago. Playing there definitely wouldn't be bad, and playing downtown would really be just like being back at home. Playing in the city would be a good experience I think," Brown stated.
Hononegah was the #1 seed in the Jacobs sectional, but fell to Elgin 79-77 in the sectional semi finals on a last second shot. Despite the loss, Brown went out on somewhat of a good note by scoring 40 points on 14-of-20 shooting from the floor and an 11-of-12 effort from the line.

Returning all-conference forward makes Hononegah a favorite
Nov 21, 2007
David Brown could dribble, drive and rebound.
Now he can also shoot.
Brown, a returning starter for Rockton Hononegah, spent the offseason working on his jump shot. Already a first-team all-conference forward as a sophomore last year, Brown's improvement is one reason the Indians are one of the preseason favorites in the NIC-10.
"He's a kid who has had a lot of success early," Hononegah coach Mike Miller said.
"What's scary is how much he improved over the past year. He just keeps getting better, and we're thrilled to have him."
Hononegah, defending champion Boylan and Auburn are the top three preseason teams in boys basketball. The Titans have most of their lineup returning from their state quarterfinal team, Auburn has talent and experience, and Hononegah has Brown and a host of other shooters.
"One of our big strengths is our shooters," said Brown, who averaged 5.9 points as a freshman and 14.5 as a sophomore. "We have a lot of shooters coming back, and we've been together for so long. Teams aren't going to know what to do against us, we have so many players coming back."
Brown started the season with three 3-pointers Monday in his team's win against McHenry.
"He does a lot of things really well, but the thing that he's really added is how well he shoots the ball," Miller said. "Early in his career, he got to the basket whenever he wanted to, and that was kind of his game. This offseason he worked hard on his jump shot."
The Indians tied for second in the NIC-9 with Guilford last year, and they were the only team in the conference to beat conference champion Boylan. Hononegah's season ended with a 52-48 loss to Huntley in the regional championship.
"After that loss last year, I got right on it," Brown said. "I got myself a trainer who helped me with my jump shot, and I spent a lot of time working on it. Now it makes me more difficult to guard, and I like having the option of coming back and shooting."
Rankings