MUScoop Wiki - By the fans, for the fans.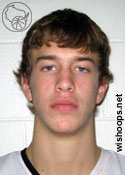 Class: 2010

Nickname(s):

Position: PF

Height: 6'9"

Weight: 210

Birthday:

Hometown: Randolph, WI

High School: Randolph HS

AAU Team: Wisconsin Swing (Selk) 16U

Rankings:

Interest Level:
Marquette Career
Marquette coach Buzz Williams extends a scholarship offer to Randolph's Kyle Kelm -(05/21/2008) - Per Mark Miller
High School Career
Statistics:
18.1 PPG (Junior)

14.8 PPG, 6.9 Rebs, 2.9 Asts (Soph)

9 PPG (58%/43%), 5 Rebs, 2.4 Asts, .8 Blks (freshman)
Wisconsin Swing 16U
6/2/2008 - Wisconsin Sports Network By Mark Miller Wishoops.net Editor
Kyle Kelm, 6-9, PF, Randolph (Wisconsin Swing-Selk) After a somewhat sluggish performance at the WIAA Division 4 State Tournament last March, Kelm has burst onto the travel-team scene in a big-time way and is pushing for the top spot in the Wishoops.net Player Rankings for the class of 2010 when they are updated late next week. After receiving a scholarship offer from Marquette University last week, Kelm put his vast array of offensive skills on full display in the McGuire Center Sunday. My choice for Most Valuable Player of the 16U bracket, Kelm once again made three-point shots, rebounded and blocked some shots. But he also showed the ability to put the ball on the floor and create for either himself or his teammates. In one impressive sequence, Kelm caught the ball outside the three-point line, gave a ball fake to a defender who flew by in an attempt to block the shot, and then put the ball on the floor for one dribble, rose up and swished a three-pointer. Kelm had 19 points, eight rebounds and two blocked shots in a semifinal victory over Development Through Athletics.
http://www.wissports.net/sports/hoopsb/article.asp?nid=14854
Analysis
Originally Posted by WisSports.net One of the most intriguing prospects in the class of 2010 because of his combination of size, agility and skill, Kelm is a capable scorer from the perimeter, from the foul line and in the lane. He is a long and mobile forward prospect who could develop into a very effective defensive player in addition to his skills on offense. Needs to add weight and strength, but his upside is very high because of his skills and size.
Per ESPN December, 2007: Kyle Kelm is a highly skilled post prospect with good upside. He can really shoot the three, he can run and looks like an intriguing prospect. Kelm does not rebound well for his size and he never scores in the paint. Kelm is going to need to work on getting stronger and tougher because college coaches rarely want a 6'9'' player who only stays on the perimeter. Kelm is going to need to become a better rebounder and finisher at the rim. He needs to work on his strength as well. At the same time, there is no denying that he can really shoot the ball and has a unique ability to trail the break and knock down 3's.
Rankings
Related Links