MUScoop Wiki - By the fans, for the fans.
Monterale Clark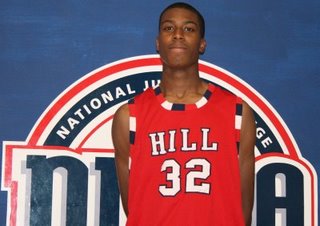 Class: 2010 (JUCO)

Position: PF/C

Height: 6'10"

Weight: 200 lbs

Birthday:

Hometown: Milwaukee, WI

High School: Milwaukee King, Pope Pius XI, Milwaukee Edison

Prep School: Ware Prep Academy, Atlanta GA

JUCO: Hill College, Hillsboro TX

AAU Team: DTA Wisconsin, Milwaukee Runnin' Rebels

Interest Level: Committed
Marquette Career
Clark's recruitment began under the previous Marquette regime. At Milwaukee King, Clark was a high school teammate at of two other MU targets at the time, Korie Lucious (now at Michigan State) and Mitchell Carter (now at South Carolina). Clark's recruitment continued with varying levels of interest through his stops at Pius XI, Edison High, and Ware Prep before Buzz Williams turned up the heat upon Clark heading to Hill Junior College
Committment 02/03/09
The first to break the story of Clark's commitment to MU was Max Ivany of the Texas Basketball Inc. Blog. Clark chose Marquette over offers from Baylor, Auburn and Oklahoma State.
High School Career
Clark attended Milwaukee Rufus King for three years, then Pope Pius XI for one year before graduating from Milwaukee Edison High in the summer of 2007. In total, he probably played one year's worth of games in high four years of high school due to academic issues and disagreements with King coach Jim Gosz.
Prep School Career
After graduating from Edison High, Clark considered enrolling at Kankakee Community College in Kankakee, Illinois before attending Ware Prep Academy in Georgia.
AAU Career
Clark played for DTA Wisconsin while at King and Pius, then for the Milwaukee Runnin Rebels while attending Ware Academy.
JUCO Career
Clark is currently attending Hill Junior College as a freshman and will have one more year at Hill before coming to MU for the 2010-11 campaign. As of this posting he is averaging 16.4 PPG, 10.4 RPG and 2.25 Blocks.
Rankings
Related Links
Video