MUScoop Wiki - By the fans, for the fans.
George Andrie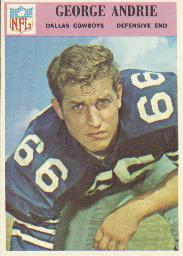 Position: DE

Height: 6'7"

Weight: 252 lbs.

Birthdate: April 20, 1940 in Grand Rapids, MI

High School: Catholic Central in Grand Rapids, MI

Drafted: Round 6, 82nd overall pick of the 1962 NFL Draft, by the Dallas Cowboys
George Andrie was the Warriors' leading receiver in each of his two seasons at Marquette (1959-1960), the final two seasons of football at the school.
A two-way standout, Andrie was also one of Marquette's leading tacklers during his career, registering more than 80 career takedowns as a defensive lineman.
Despite missing what would have been his senior season due to the termination of the program, he was drafted in the sixth round by the Dallas Cowboys. He was also drafted in the twelfth round of the 1962 AFL draft by the San Diego Chargers.
Named to the NFL All-Rookie Team in 1962, he was a starter at defensive end for Dallas for more than a decade, was named to the Pro Bowl in five consecutive seasons and helped the Cowboys win Super Bowl VI.
He was inducted into the Marquette Hall of Fame in 1991.