MUScoop Wiki - By the fans, for the fans.
Raymond "Buzz" Buivid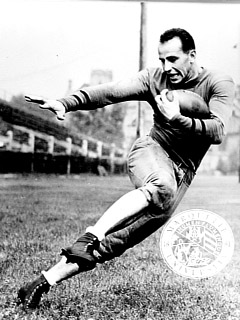 Nickname(s): Buzz

Position: E/HB/QB

Height: 6'1"

Weight: 195 lbs.

Birthdate: August 15, 1915 in Sheboygan, WI

High School: Port Washington High School
Marquette Career
A gifted all-around performer, Raymond "Buzz" Buivid was a member of Marquette's famed 1937 Cotton Bowl team. He also served as team captain that season.
An outstanding runner and star defensive back as well, Buivid teamed with Ward Cuff and twins Albert and Arthur Guepe to form one of the country's top backfields.
In 1936, Buivid helped MU to a regular-season mark of 7-1, a No. 20 national ranking and a berth in the first-ever Cotton Bowl. He gained national attention for his three touchdown performance vs. St. Mary's (Calif.) in front of 60,000 fans at Soldier Field and would finish third in the 1936 Heisman Trophy voting. He was selected as a first-team All-American in 1936 after completing more than 50 percent of his pass attempts.
He tossed 13 TD passes as a junior in 1935.
Professional Career
Buivid played professionally for the NFL's Chicago Bears (1937-1938).
Pictures